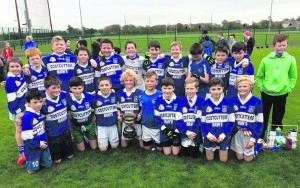 St. Mary's Boys NS won the Primary Schools West Football Championship for the first time since 2007 after beating Ardagh NS 2-2 to 0-5 in a thrilling final in Mick Neville Park. After a low-scoring first-half, Ardagh led by 3 points to 2 at half-time, with the St. Mary's points coming in the form of an Oisin Woulfe free and a point from play from Thomas McCarthy. In the third quarter, Oisin scored a super goal from long-range and Ardagh scored two points, leaving the sides level as the game entered the final couple of minutes. Then Oisin struck with another magnificent goal, putting St. Mary's three points ahead. There were great scenes of joy among players, fellow pupils, parents and teachers when referee Sean Harnett blew the final whistle.
It was a long overdue victory for St. Mary's who had been beaten by Courtney Boys NS in four of the last five finals. All the players were outstanding and they were superbly led by captain Sam Quigley.
The team was as follows: Liam Collins, Aodhan Cotter, Tim Lyons, Danny Harnett, Michael Kilbridge, Culann Quigley, Calum Boyle, Sam Quigley (capt), Ronan Quirke, Martin McCarthy, Oisin Woulfe, Kevin McCarthy, Thomas McCarthy, Jack O'Connell, Dylan Murphy. Subs: Ben Finn (h-t), Michael McCarthy (30 mins), Sean Daughton, Mark McAuliffe, Conor Doody, Nathan Murphy.
St. Mary's will now play the City winners, Milford NS, in the county semi-final on Friday, November 20th, at a venue yet to be decided.