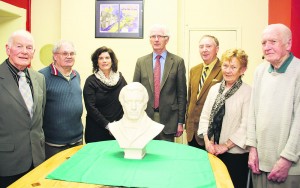 At the Thomas Davis Commemoration Committee Annual General Meeting, the following were elected: Frank Killilea, Chairperson, Liam Sampey, Vice Chairperson, Joan O'Donoghue, Secretary, Paul Long and William Mc Auliffe, Joint Treasurers, Dan Doolan and Tim Sheehan; Research Officers, Edel Daly, P.R.O. and Committee members Séan Curtin and Noel O'Connor.
Looking back over the year, it was noted that a very successful commemoration evening was held in St James' Church on October 10th with guest speaker John Hassett (President of the The Irish Bardic Association) and Cór agus Ceoltóirí Ghaelscoil Thomáis Dáibhís. We would like to express our appreciation to Canon Eithne Lynch for taking part in the celebrations and to John Coulter for facilitating our visit. We would also like to thank David Finn for inscribing the medal.
In relation to the annual Thomas Davis Com-memoration Poetry Competition for Transition Year students, this year themed 'A Patriot for Ireland Today', we thank the students from the three post primary schools in Mallow for their part-icipation. We especially thank the Transition Year English teachers who facilitated the students' participation in the event.
John McDonnell will shortly present a bust of Thomas Davis, on behalf of Mallow Development Partnership Committee, to Mallow Town Council to hold on behalf of the people of Mallow.
At the February Thomas Davis Commemoration Committee meeting, a brief discussion took place in relation to the request to the Philatelic Advisory Committee of Ireland to issue a commemorative stamp to mark the bicentenary of the birth of Thomas Davis in 2014.
Le gach dea-ghuí, Coiste Comórtha Thomáis Dáibhís.