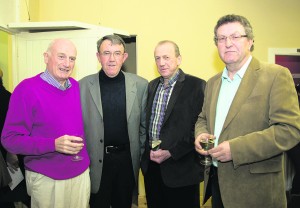 A tribute night for Tim Crowley, Ballylin, Ardagh, who retired as Principal of Ardagh National School last month was held in Ardagh Community Centre on Friday 6th December. The hall was neatly decorated for the occasion and a drinks reception greeted all who entered. School parents, fellow teachers, team mates, family and friends attended in large numbers to show their appreciation for the work Tim has done for the school and the community in general.
It was appropriate that the function was held in this building, as Tim went to school there before the present school was built and opened in 1965. Tim received his education in Ardagh N.S. under Mr. Ambrose and Johnny Danaher.  Next he went to Copsewood College in Pallaskenry for 5 years, and Saint Patrick's Training College for 2 more. His first teaching post was in Kilcormack N.S in County Offaly where Liam Currans was one of his pupils. He taught him the skills that led Liam to become a dual All Ireland senior medal winner with Offaly in hurling and football. Tim's next post was in Adare for 5 years, where Brother Dwane was a guiding influence, and known to all as Mr. Adare.  Tim's wish to teach in his native village was realised in 1978 when he was appointed to Ardagh N.S.  He succeeded Michael Noonan as Principal in 1996 and his easy going manner endeared him to all. During his long career in teaching he has promoted participation in the Primary School games for boys and girls, and has been rewarded with many successes. He has also been involved as a selector/ mentor with the West Limerick School's teams who have won county titles.
Tim has been deeply involved as a volunteer in his local community for many years. A man for all seasons he has been associated with the local GAA club as a dual player, selector, coach, manager and officer. He has also represented the club successfully in Scór competitions, winning west and county honours, in novelty act and question time. He has represented Limerick in U-21 and senior football as well as U-21 hurling and he had the honour of being captain of the senior football team in 1982. He enjoyed a very successful playing career from 1969 to 1991winning numerous West and County titles, as well as a Munster College junior football medal with Copsewood College defeating Bandon College in 1968.  His first match for the club was in the Carrigkerry Carnival Football Tournament in August 1969 against Ballyhahill. The match was played in Mulvihill's field and it was a warm welcome to the rough and tumble of junior football in West Limerick. Tim went on to win 3 county senior football medals with St Kieran's in 1981,1985, and 1990, a county junior football medal with Carrigkerry in 1971, and a county junior hurling medal with St Kieran's in 1985. He has won county inter firm hurling and football medals, as well as 8 west senior football medals. Tim has also won 4 west junior hurling and 2 west football medals and an U21 football medal, as well as special competitions, carnival tournaments in an honour laden career.
He includes Fr Florence Mc Carthy, Copsewood College, Paddy Histon, John Joe Fitzgerald, and Donie Flynn as the big influences in his career. He admired the play of Willie Bryan, Offaly, Mick O'Connell, and Pat Spillane, Kerry and Mick Roche Tipperary.  His most memorable game was being a member of St Kieran's team that defeated All Ireland club champions Thomond College in the county senior football semi final in Askeaton in 1978. His favourite position was centre field and his other interests outside the GAA include horse racing and golf. His partners on the fairways Joe Ryan, Liam Lenihan, and John Anthony Culhane, were all present on the night, and Tim will hope to add to his golf successes in the future He was secretary of St Kieran's from 1973 to 1975 and chairman from 1985 to 1988.  He has been a coach and selector within the club, guiding many teams to success since his retirement from playing. His many achievements with under age teams in the west and county has given him great satisfaction. The All Ireland Football Feile win in Donegal in 1997 was a particular highlight for Tim.
Tim has a big interest in politics and has been involved in the Ardagh Fianna Fail Cumann for many years. He was a founding member of Ardagh Drama Group and played the part of the Bishop in their first production of Moll. He was a founding member of Ardagh Development Association in 1992 and the chairman, which helped to change and upgrade the appearance of the village. He has been a member of the Hall Committee for 30 years helping with the weekly card game, and many other events too numerous to mention. Tim has invested a lot of time and made a big contribution to so many clubs and organisations over the years.  He has been known to put pen to paper to pay tribute to achievements, and to promote the club in numerous publications, over the years.
John Hough friend and neighbour was the MC for the night, and Ardagh/Carrigkerry Comhaltas provided the entertainment. A number of presentations were made to Tim during the evening from John Ryan chairman of the St Kieran's senior club. Mike Ruttle chairman of the Saint Kieran's Bord na nÓg Club. Mike Daly and Evelyn Mullins on behalf of Ardagh/Carrigkerry Comhaltas. Mairead Moran, and John Campbell, on behalf of Ardagh School Parents Council. Nora Madden, Principal of Coolcappa N.S. Donie Sheahan, on behalf of the Ardagh Fianna Fail Branch. John Mullins, Joan Molyneaux, and Patrick Mullins, on behalf of the Ardagh Development, and Hall Committee. Tommy Greaney on behalf of the St Kieran's team that won the 1981 county senior football Championship for the first time. Joan Molyneaux made a special personal presentation to Tim, they being the two members longest associated with Ardagh Hall. Moira Donovan presented Tim's wife Maura Crowley with a bouquet of flowers.
Tim in reply outlined his life and times, and his love for his native place. He thanked Maura, and his children, his and Maura's family friend Joan, all the teachers, and people he has been associated with over the years, and the people who made the night possible.  It was delivered from the heart and received with appreciation and much applause. A fine selection of photos featuring Tim was shown on the back wall of the hall throughout the night. They made interesting viewing and attracted a lot of interest, from the attendance.
The committee members, CE workers, and all who helped out deserve a lot of praise for their efforts which contributed to a very successful night. The night concluded with lovely refreshments, chat and nostalgia, as people mingled and recalled past times. It was a fitting tribute to a proud son of Ardagh, and we all wish Tim good health and happiness in his retirement.