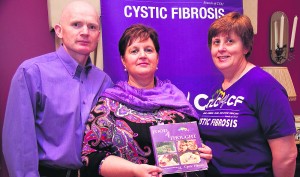 After the great success of their Cookery Book, Food4Thought, which, thanks to an amazing response from all sold out its' first print run and raised in excess of  €110,000,  building of  the Adult In & Out Patient Specialised Unit for CF sufferers at Mid Western Regional Hospital has now begun,  what a truly great achievement.   However, for TLC4CF their fundraising continues as the units need to be equipped with beds, respirators, monitors etc and therefore, TLC4CF are launching Food4Thought, Volume 2 and going for their '2' in a row!
Food4Thought, Volume 2 is again compiled by Breda O' Shaughnessy and she is confident that having learned the basics in Volume 1, everyone is now ready to expand their knowledge and skills.  Volume 2, offers just that, recipes are a little more complex, but not Masterchef level! Volume 2 boasts the same high standards of photography and presentation and will be a wonderful addition to any Kitchen Library  
To whet your appetites, Volume 2 will be launched by the lovely Gerry May of Winning Streak fame. Gerry is generously offering her support to TLC4CF to host an evening which includes finger food, refreshments and spot prizes at the Woodlands House Hotel, Adare, on Thursday November 3rd at  8.00 p.m.
Food4Thought, Volume 2 is being sold at the same great value price of €10 and please remember ALL proceeds from book sales go directly to TLC4CF 'equipment fund'. Volume 1 can be purchased on the night and Special Presentation packs of both volumes will also be on sale and will make a wonderful gift for any occasion.
All are welcome at Woodlands House Hotel, Adare, on Thursday November 3rd at  8.00p.m.  to help  TLC4CF achieve their '2' in a row!