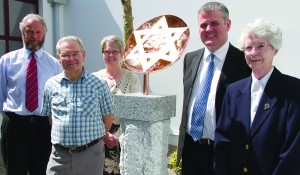 Man's inhumanity to man was laid bare for a captivated attendance at John the Baptist Commu-nity School, Hospital, last Thursday. The school gymnasium was packed to overflowing to hear an 80 minutes lecture from a survivor of the Holocaust, Tomi Reichental, on one of the darkest chapters of human history. The Slov-akian native, a sprightly septuagenarian, recalled in great detail the suffering his family and country endured during one of the greatest atrocities in history.
Tomi Reichental, a Slova-kian Jew, was born in Pies-tany, Slovakia, in 1935. In 1944 he was captured with his mother, grandmother, brother, aunt and cousin by the S.S. and deported to the death camp Bergen Belsen where over 50,000 people were killed. Tomi, his mother and brother were among those liberated by Allied troops on the morning of April 15th 1945. As many as 35 mem-bers of Tomi's family were murdered in concentration camps during the Second World War.
When Adolf Hitler became leader of the Nazi party in 1921 he stated clearly that his ultimate aim was the removal of the Jews from German society. By the time he became Chancellor in 1933 he was planning to remove the Jews from Germany by expulsion and evacuation. With the annexation of Austria in 1938 and the subsequent absorption of Czechoslov-akia in 1939, Hitler was in control of more territory and more Jews. The invasion of Poland in 1939 which heralded the begin-ning of World War II brought a further three million Jews under German control. It is estimated that 9.6 million Jews lived in what became Nazi occu-pied Europe in 1939. By the end of the war in 1945, only 3.2 million had sur-vived the Holocaust. Mil-lions of other victims were also murdered by the Nazis and their collaborators.
Mr. Reichental entered the John the Baptist Commu-nity School gymnasium packed with students, staff, parents and the general public, to the strains of 'From a Distance' sung by the school choir, and was introduced by Fr. Sean Fennelly, School Chaplain, and by Edmund Gubbins on behalf of the students.
In his introduction, Fr. Fennelly said: "Mr. Reich-ental is currently working on his second book and his second movie on his story as well giving talks around the world, and in two weeks time he has been invited back to Bergen Belsen, which will be difficult for him. There is no one in this room who has seen what this man's eyes have seen, and it is an absolute privilege that he is with us, and for us to hear at first hand this awful, horrible chapter of history. Hopefully by remembering we will never forget."
"We are truly honoured that he has come to tell us of his experiences during the Holocaust and to give us a first-hand insight into what life was like at Bergen Belsen," Edward Gubbins said during his welcoming remarks.
In a riveting 80-minute address Mr. Reichental spoke about the 6 million Jews and the many others that lost their lives in the Holocaust. He spoke about the greed, the loss of dignity, the humiliation, the torture and the mass executions suffered by his people and members of his family at the hands of their captors. He spoke about his fond memories of growing up in Slovakia before he was captured and taken to Bergen Belsen in 1944. "I could not play like a normal child, we didn't laugh and we didn't cry. If you stepped out of line at all, you could be beaten up and even beaten to death. I saw it with my own eyes," Mr. Reichental said.
During a question and answer session at the end of his address, Mr. Reichental explained how he came to settle in Ireland 55 years ago. He came to Ireland in 1957 to set up a factory here making zip fasteners. When asked from the floor about his attitude to the German people, Mr. Reichental magnanimously replied: "If I hate, I will be the per-son that is suffering. I look into the future and forget the past. I cannot blame the new generation for the wrongs of their parents and grandparents."
With words of thanks from school Principal Jim Twohig ringing in his ears, Tomi Reichental left the gymnasium as the choir sang "I Hope You Dance" before he unveiled a mem-orial in the school marking the tragedy that was the Holocaust and which will be a permanent reminder of a dark chapter in human history.