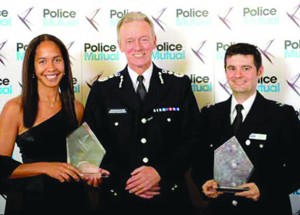 The courage and dedication of a young police officer based in London's Westminister was recognised last Thursday when she was awarded a Police Federation National Bravery Award at an event hosted in partnership with The Police Mutual Assurance Society, and attended by the Commissioner Bernard Hogan-Howe and the Deputy Commissioner Craig Mackey.
Detective Constable Charmain Brenyah whose mother Anne O'Sullivan is a native of Castlemagner, and police Constable Alan O'Connor were on routine patrol when they saw a car being driven suspiciously. The two officers gave chase and managed to pull the car over. As they got out of their own vehicle during the incident in September 2009 one of the gang shot at them several times. The suspects then sped off but the officers continued to pursue them despite coming under repeated gunfire. The suspects' car then smashed into another police vehicle and two men were arrested at the scene. They were later convicted of a series of cash-in-transit robberies.
Recalling what happened DC Brenyah said: "It wasn't until one of the men got out of the car and pointed the gun at me that I realised they were armed. I ducked down and they made off again. We followed and they carried on shooting through the windscreen at us but we were determined to catch them. It was a very dangerous situation, we could have been shot and it's something I will never forget. But I'm very proud we got them off the streets. It's great to win this regional award, it's the highlight of my career so far."
PC O'Connor added: "We didn't really think about it, instincts and adrenalin just kicked in and we kept chasing them despite the gunfire. We were very lucky not to be hit. It didn't actually sink in until much later. The shooter got seventeen years and the other two were also convicted which was a great result."
Fifty-three officers from across England and Wales who risked their lives in the line of duty were nominated for the Police Federation Bravery Awards.
Charmain is a very regular visitor to Castlemagner to visit her grandmother Mary O'Sullivan.