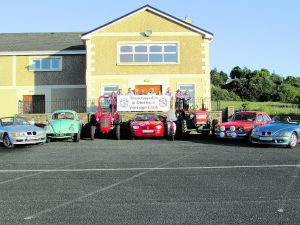 Tournafulla and District Vintage club are all set for a wonderful vintage run next Sunday, a charity fundraiser for two well deserving charities, Crumlin Hospital for Sick Children, now known as The National Children's Research Centre, and Pieta House.
Elaine White said that every year, the committee decide on a charity to support.
This year, they have decided on two charities, Crumlin because of the wonderful help a local child received from the centre and Pieta House because of the increase in numbers suffering from depression.
When a child you love is sick, your top priority is finding the best care available. CMRF Crumlin together with donors and partners fund initiatives, research, equipment and projects with three main aims. It supports the best and most promising paediatric research. Their goal – to find new ways of diagnosing and treating sick children, supporting small victories every day for children living with illness by improving their quality of life, creating brighter days for sick children and their families by funding comforts through the Giggle Fund and enhancing their environment.
In 2006, Pieta House opened its doors in Lucan, County Dublin and since that day it has seen and helped over 40,000 people in suicidal distress or engaging in self-harm and established fifteen subsequent centres across Ireland.
From humble beginnings, Pieta House has grown to almost 270 therapists and administration staff, and the demand for the service hasn't let up. In 2018 alone, nearly 8,000 people came through its doors suffering from suicidal ideation and/or engaging in self-harm, or to avail of suicide bereavement counselling.
This year, the weekend kicks off on Saturday evening July 20th with a Road Hurling event, hosted by the newly formed Tournafulla Parish Council. This promises to be great fun and is open to all. Participants are advised to arrive 30 minutes before the first puck out. From 6 to 7pm, ages 12-15 and from 7pm 16 to adults of all ages. Entertainment follows at the Goal Post Bar. The Vintage run starts at 11am on Sunday morning July 21st from Halla Tadgh Gaelach, Tournafulla. The committee are hoping for an increased number of vehicles taking part. Last year's number was one hundred and eighty. The run itself, which is longer for cars than for tractors, takes in part of the West Limerick Way, Ashford, Broadford, Dromcollogher, Castlemahon, and so on and finishes in the GAA Field, Tournafulla.
Meanwhile, in the GAA field while the run is taking place, an early morning disco will set the scene for the rest of the day. Later on, Kevin McCarthy's one -man band will take to the stage. In the marquee, the usual dancing competitions will be held. All the twinkled-toed locals and visitors alike will look forward to the competition. There will be much entertainment for the children too with Face-Painting and Giggles the Clown, and more. The raffle this year is for some great prizes, the first a classic racing car. There's also a tour of Leinster House which includes dinner for two, a night away for two in a Killarney Hotel, a hundred euro one-for-all voucher, various hampers and much more. There will be a barbeque with resident cooks offering gourmet sausages and burgers, as well as a hospitality tent serving teas and coffees and pastries. Other entertainment includes "Kick a Dart" and "Hook a Duck" along with various stall holders of different trades.
It's shaping up to be a great weekend in Tournafulla. Events like this are vital in sustaining local communities and charities. Come along and support a great day where everyone's a winner.