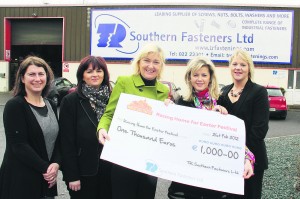 Mallow's Racing Home for Easter Festival sponsorship committee received a huge boost this week with the news that TR Southern Fasteners have come on board as a Festival Partner and sponsor of the Central Hotel music stage for Easter Saturday. TR Southern Fasteners' location manager Dara Horgan says, "The Racing Home for Easter Festival is a huge draw to Mallow each year and TR Southern Fasteners is delighted to become a partner of the 2012 festival and indeed we are proud to be associated with such a positive local event. We are helping to showcase the best of local talent by supporting the Central Hotel music stage on Easter Saturday".
TR Southern Fasteners are based at the IDA Industrial Estate in Mallow and while very much rooted in the community, the company is part of the global TR Fastenings Ltd company which supplies over 150 million components every day to thousands of customers, from small workshops to global corporations. TR Fasteners Ltd supplies an extensive range of fasteners products and has a global footprint in 24 strategic sites located in three continents. The company specialises in offering customers tailor made solutions to suit their unique needs.
Festival Chairperson Mary Kelly says, "It's terrific to have TR Southern Fasteners as our latest Festival Partner. Their sponsorship is extremely generous and they have rowed in behind the sponsorship of the Central Hotel music stage, where some great bands and other live acts will be entertaining the crowds on the Main Street during Easter Saturday. This is their first year sponsoring the festival and we look forward to maintaining that partnership into the future".
The festival is still looking for 'partners' and 'friends' to show their support. Mary Kelly says, "All the money will go towards a hectic programme of events over the Easter Bank Holiday weekend and if you would like to find out more about becoming a partner or friend of the festival, just call Mallow Chamber".
Mallow Chamber are contactable on 022 55660.
Festival partners to date: Fáilte Ireland, Irish Rail, Cork County Council, Mallow Town Council, Cork Racecourse Mallow, Mallow Star/Vale Star, C103, Dairygold, Avondhu/Blackwater Partnership Ltd, Hibernian Hotel, Mallow Vintners, Luna Bella Boutique, TR Southern Fasteners, Mallow Print, Fitzpatrick's Jewellers, Knight's Spar, Carry Out off licence and Amber Oil and the Mallow Primary Healthcare Centre.
Festival Friends: Thermosafe Brands Europe Ltd, McDonald's, Aunty's Nellie's Sweet Shop, Dano's Centra, Mallow Credit Union, North Cork Enterprise Board, Blackwater Valley Tourism, ITW Hi-Cone, Kostal, Country Lifestyle, Dermot Casey Tree Care and Tool Hire, Park West Flowers, Padre Pio Nursing Home, QiFA Financial, Springfort Hall Hotel, Supermacs, Crafted Fitted Furniture, Kiely's Car Sales, O'Connell's Funeral Home, Mallow Development Partnership, Lyons Shoe Shop, Barry's Tools, Stunners Hair Salon, Susan Brennan/Head First Hat Hire, Spiralli Business Solutions, Foley's Supermarket, Profectus Coaching, Apache Pizza, Minister Sean Sherlock and Tom Barry TD.