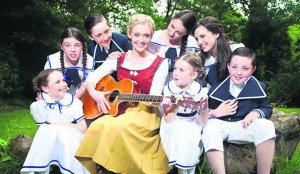 The hills came alive in Centre Stage School Mallow when news that Ellie Mullane and Daragh Healy had been cast in lead roles in the Cork Opera House forthcoming production of 'The Sound of Music'. Ellie Mullane, (19) takes the stage as the charmingly innocent Liesl, singing solo numbers such as 'Sixteen Going on Seventeen' and 'Edel-weiss', while 11 year old Daragh Healy plays her younger brother Kurt within the heart-warming Von Trapp family. Six other Centre Stage students also got to the final twenty five in the audition process, which was an extraordinary achievement for the school. After auditioning nearly 1,000 people in search of the perfect cast, director Bryan Flynn and his team worked tirelessly to choose what the Opera House say is sure to be a world class cast. Carol Anne Ryan (a former teacher at Centre Stage) won the much-coveted role of Maria Reiner along with acclaimed actor and singer Michael Sands as Captain Von Trapp and internation-ally renowned soprano Cara O'Sullivan as Mother Abbess.
Daragh, who first took the main stage only last March in Centre Stage School's 'Oliver', explained how intense the audition process was. "I was really nervous auditioning for The Sound of Music. I had to go up to Cork three times and then the awful waiting to hear….. Aideen from Centre Stage eventually rang us with the good news. My whole family knew before I knew, so they were really excited for me!"
Ellie Mullane attended Centre Stage School for numerous years, claiming an impressive three gold LAMDA medals in Acting, Musical Theatre and Verse and Prose. Last year she trained full-time in dance, under the direction of Alan Foley in the Firkin Crane, Cork. This marks Ellie's first ever professional performing job which brings huge pride to Ellie, Centre Stage, not to mention her proud parents John and Anne Mullane.
This lavish production of The Sound of Music will illuminate the Opera House stage and its surrounds over the coming months and will really take flight with its opening on Friday, July 27th under a top-class creative team. For booking and information visit www.corkoperahouse.ie or call 021 4270022.