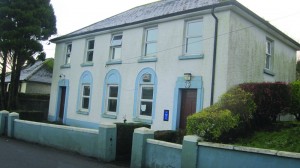 Two west Limerick Garda stations, Kilmeedy and Tournafulla, are set to close following the announcement of the Annual Policing Plan for 2013 by the Minister for Justice and Equality, Alan Shatter, last week. They are among six stations in Limerick city and county earmarked for closure during 2013, the others being Kilfinane, Castletown-Conyers, Galbally and Limerick city's Mary Street station.
The plan, drawn up by the Garda Commissioner, envisages the consolidation of 100 Garda stations nationwide and the amalgamation of 28 Garda Districts into 14, including one in west Limerick. According to the plan, the objective of the consol-idation of the Garda station network is to secure the more efficient deployment of Garda members so that a more effective policing service can be delivered in the areas concerned and it is planned that local Garda management will consult with local communities on the alternative policing arrangements to be put in place in their area, which will include discussion at Joint Policing Committees and local community policing fora.
Kilmeedy is currently open about three hours per day and is serviced by one Garda who according to the plan will be transferred to Ballingarry. Present arrangements in Tour-nafulla are similar to the proposal to transfer the present Gardai in that station to Abbeyfeale.
During the course of 2013 the Garda Commissioner will also amalgamate 28 Garda districts nationwide into 14 larger Garda districts. It is planned that the Askeaton district will amalgamate with Newcastle West. The rationale cited for this consolidation is to enable more flexible deployment of Garda personnel in the enlarged districts, and to provide improved economies of scale in administration.
Garda authorities are currently preparing a timeframe for the consolidation to take place next year. It is anticipated that most of the stations will be closed in the first six months of 2013.