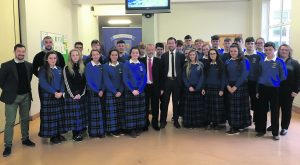 Coláiste Iósaef Kilmallock students entered the national competition of Euroscola 2018 last October. The competition required them to produce a short 2 minute video on 'Why young people should vote in European Elections'.
The school was selected as the winner from over 600 entries nationwide. Euroscola offers an immersive experience in the Chamber of the European Parliament in Strasbourg, allowing high-school students to learn about European integration by experiencing it firsthand. Students from the 28 EU Member States are selected to become Members of the European Parliament for one day. They take the floor in plenary and committee sessions to debate and vote on resolutions on current affairs, all the while practising their language skills and making friends with fellow students from across Europe. Teachers also have the opportunity to meet their colleagues and exchange feedback about their own classroom practices and experiences.
24 TY students will travel this Wednesday to Strasbourg and onwards to Munich on Friday. They will be accompanied by their teachers Mr Eoin Shinners, Ms Michelle Daly and Mr Cathal McNamara. Indeed, for most of the group, this will be their second trip abroad in a matter of weeks. Prior to the Easter break, TYs travelled to Paris. The Transition Year Programme in Coláiste Iósaef Community College continues to grow from strength to strength, with students being afforded fantastic opportunities across a range of disciplines.
TY students will take to the catwalk for the National Finals of Junk Kouture on the 19th of April next in the Three Arena, after being selected as the top entry for the Regional Finals last March in UL.