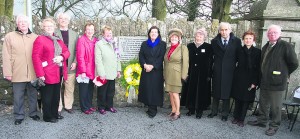 On Sunday 13th November about 200 people attended a ceremony at Grange, Co. Limerick to commemorate an action that took place in 1920. The event was organized by the Sean Wall Memorial Committee. Guests included the Chair of Limerick Co Council, former Ministers, TDs and Co. Councillors.
Several relatives of those involved also attended. The oration was by author Tom Toomey. Tom concluded his speech by saying "today as our country faces a position of unparalleled financial danger such that our entire economic survival is threatened. let us hope that our leaders, be they political, economic, civic or clerical will show the same courage and sense odd purpose as those brave young men who fought here over 91 years ago." Tom also mentioned an interesting note "one very unique fact about the Grange Ambush was that the Curate at Fedamore, Fr. Carroll actually took part in the action. What was unique about was that Fr. William Joseph Carroll, Chaplain to the Mid Limerick Brigade, had been awarded the Military Cross for Bravery in 1918' by the British Army!
Michael J Noonan, Secretary of the Sean Wall Committee introducing the ceremony said "There is much talk these days about our loss of sovereignity, maybe a lot of it is just in financial terms, maybe more…..
In those conversations rarely is the gaining of our sovereignty discussed in any great detail. A generation is passing from us that could bear witness to the pain, grief, bravery and fortitude that was required in the birth of our nation."
A memorial wreath was laid by the Chairman of Sean Wall, Mr. Dennis Barrett. Prayers were recited by the Parish Priests of Bruff and Fedamore. The Last Post was sounded and the National Anthem was played by Cián O'Seachnasaigh a young piper from Newcastle West Pipe Band.