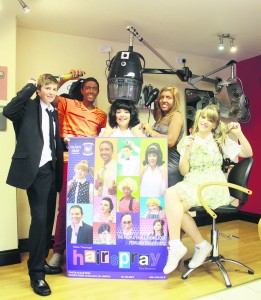 Rehearsals are finally drawing to a close for the staging of "Miss Teenage Hairspray" by Coláiste Iósaef students. Based on the hit Broadway musical and movie 'Hairspray' the cast and crew have been putting in countless hours in preparing for this production since last September. 'Hairspray' was a hit musical movie in 2007 starring John Travolta, Michelle Pfeiffer and Zac Efron and the students more than match up to their Hollywood counterparts.
Following hot on the success of last year's musical 'Footloose 2011', which played to over one thousand people during a wildly successful run in Kilmallock, Coláiste Iósaef has developed a reputation for quality entertainment. Principal, Mr. Seán Twomey commented, 'Certainly, if rehearsals are anything to go by I think this will be a fantastic family night out. It's a musical comedy which takes a light-hearted look at some difficult themes and the cast and crew have put in great work under the guidance of our staff.'
The dedicated cast of students are looking forward to showcasing their talents. The school is delighted once again to have the services of the AIMS award winning choreographer, Ms Niamh O'Connell. Niamh together with musical/choral directors, Ms. Emer Glancy and Ms. Elaine Davern, directors Ms Marita Herbert and Ms Michele Daly and producer Ms Caitríona O'Brien are determined to provide an amazing show for the public and this has undoubtedly been achieved.
'Miss Teenage Hairspray' brings the audience all the way back to 1962 and over to Baltimore, America. The '50s are out and change is in the air. Teenager Tracy Turnblad, a big girl with big hair and an even bigger heart, has only one passion – to dance. She wins a spot on the local TV dance programme, 'The Corny Collins Show' and, overnight, is transformed from outsider to irrepressible teen celebrity. But can a trendsetter in dance and fashion vanquish the programme's reigning princess, win the affection of heartthrob Link Larkin, and integrate a television show without denting her 'Hair – do'? Well you'll have to go and see 'Ms Teenage Hairspray' to find out.
The musical will take place in The People's Hall, Kilmallock and will run for four consecutive nights from Wednesday 8th to Saturday 11th of February. Tickets are available within the school and are reasonably priced at €10 and can be purchased from Coláiste Iósaef at 063-98275.