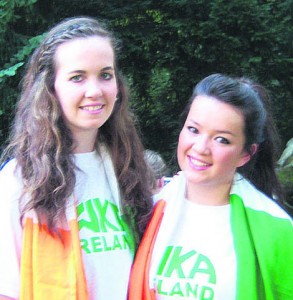 An Irish team competed at the World Kickboxing Championships in Karlsruhe, Germany, from the 21st to the 28th of August, and two Co. Limerick girls Aisling Yataki and Ciara O'Shea were on the team. Both ladies live in Newcastle West and have been doing Tae Kwon Do with Newcastle West Tae Kwon Do club since they were five years old under the guidance of Mr. John Riordan.
There were 36 countries represented at this year's competition. The Irish team, comprised of 10 competitors, brought home 16 medals between them.
Aisling, a student at SMI, Newcastle West won a silver individual medal in light contact sparring and a bronze medal in team sparring at the competition. Ciara, a student at Hazelwood College, won a silver medal in point sparring and two bronze medals, in light contact sparring and team sparring.
Both ladies have represented their country on previous occasions and have been on the Junior Irish Tae Kwon Do team for several years. Competing at this level requires strong commitment and the girls train four to five times a week, both locally and in Cork and Kerry.
Aisling and Ciara would like to take this opportunity to thank the people of Newcastle West who supported their flag day and bag packing to help fund them on this trip. They would like to say a special thank you to Gar-vey's Super Valu, their manager Seamus and all the staff for their support.