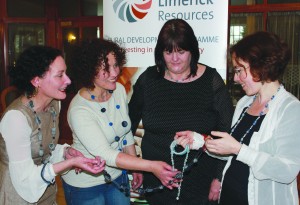 West Limerick craft bus-inesses will be among those shown at the Voluntary Arts Week pro-gramme which is running until May 20th in the Hunt Museum Gift Shop in Limerick city. 
The local craft businesses are among a group of eight who recently completed a five week "Developing Your Craft Business" training course which was organised exclusively for the craft sector by West Limerick Resources under the Rural Development Programme. Speaking recently, Morgan Boohan, enterprise officer with West Limerick Resources noted "Despite the current tough climate, the craft sector holds significant potential for economic development, tourism opportunities and has natural linkages with the heritage, history and culture of West Limerick. This training was designed to bring local crafts persons together to reinvigorate their sector and focus their marketing efforts. We are delighted to now be able to work with the Hunt Museum and help raise the profile and appreciation of the local craft sector."
Crafts from all disciplines are represented in West Limerick, John Sherlock and Joanie Carrig work in ceramics, both offering different styles and con-cepts, with Jamie Sheehan from Devon Art Glass working in the age old art of stained glass restoration.  A new business targeting the Limerick consumer is Jeanie McCormack and her organic skincare range, all hand made in Newcastle West, with many of her ingredients such as laven-der grown in her own garden.
Charlotte Leeder, a textiles artist, creates and designs exquisite jewelry using craft techniques of hand spinning and felting for her unique Rose Dog Collect-ion. Miriam Kirby works in découpage, a craft which enhances and reinterprets many ordinary objects into objets d'art.
Contemporary and heritage lathe work in wood is shown in the craft of Gerard Fenniman whose sculptural and functional forms and vessels are a stylish addition to the contemporary home.  Patrick Broderick work celebrates and informs us about the uniquely Irish age old art of sugan chair making.
The Limerick consumer can commission work that is unique and once-off at reasonable and affordable prices. Interest in the creative process and the skills that go into the making of each piece of craft is of huge interest to the public, with more and more Irish consumers wanting to see the craft creation process and meet the craftsperson.
A selection of craft work will be displayed in the Hunt Museum Gift Shop until May 20th.