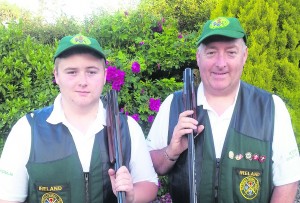 West Limerick will be well represented on the Ireland team that will be shooting at the Home Countries Clay Pigeon Shooting international event in County Offaly later this week.
Tony Shanahan from Barna will be representing Ireland at the event for the second time, while his 14-year-old son Brian will be making his international debut. It will be a very special occasion for Brian, a rising star in his first year in the sport competitively, who has been well tutored on the finer points of the game by Liam Walsh at Knocknagoshel Shooting Grounds.
The men will be joined in the green singlet by long time internationals Willie O'Sullivan from Rathkeale who is number one in the veteran team and his grandson Ian who is number one on the junior team while Anne Maria Shields also from Rathkeale is number one on the ladies team.
"It is a great achievement for all of them and it is great to be shooting with them, they have more of it done than I have" Tony told the Weekly Observer.
Tony, who is a member of Newcastle West Gun Club, has been at clay pigeon shooting for many years but only took up the sport seriously three years ago. Brian sets off this week for the championships in fine form, having recently won the Gallagher Cup and Kingdom Cup and in 2012 won the Munster League when he was joint number one in the province.
Ireland was second in the Home Nations last year and Tony is optimistic that they will go one better this year "We have a good team this year and hopefully we will pull it off."
Tony thinks that they are lucky with the close availability of shooting facilities at Knocknagoshel Shooting Grounds, at Carroll's Mountain in Broadford and Eddie Daly's in Rosemount. "We have three great facilities near us, people do not use them enough" he claimed.
Tony is thrilled to answer the call to represent Ireland "it is the highest honour that you can get for your country and it is brilliant that Brian has been called up also."
The internationals get under way at Esker Shooting Grounds, Banagher on Friday and are followed on Saturday by the British Open at the same venue.
Tony Shanahan's travel will not end there as he will represent Ireland in the European Championships in France in mid August. Brian will also travel to the event and will shoot in his own class as an individual.