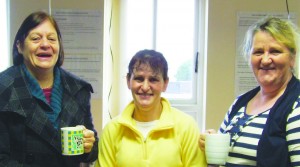 Helping to raise awareness of domestic violence, members of the West Limerick Resources Primary Health Care Project for Travellers organised a coffee morning in their office in Newcastle West on December 7th as part of the 16 Days of Action Campaign which ran from November 25th to December 10th. Those who attended donated new baby products which were presented to Deirdre Barrett of Adapt House which runs a women's refuge in Limerick city, providing year-round safe, emergency shelter and support to women and their children who are subjected to domestic abuse.
Over the course of the 16 days, the Primary Health Care Team also distributed an information pack to over sixty homes in Newcastle West containing details of local services available to women experiencing domestic violence along with useful tips to help a person know how to respond if they are told by a friend or relative that she is experiencing domestic violence. Included in the pack was a flyer entitled "How can you help a friend or relative who trusts you enough to tell you that she is experiencing domestic violence?" This flyer is adapted from information from www.womensaid.ie and Adapt Services. Copies are available from the Primary Health Care Project. Call 069 61316 or email phcp@wlr.ie.
During the coffee morning the team also organised a balloon release with one white balloon for every four black to mark the fact that one in five women in Ireland experience domestic violence during their lifetime.