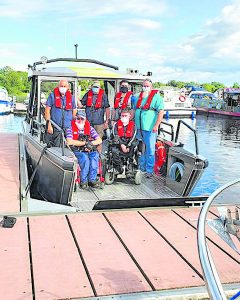 By John Barrett
Locals in Charleville are being encouraged to come out in support of the Darragh Kenny Malin to Mizen Memorial Cycle which will stop off at the Charleville Park Hotel on Wednesday evening next, 16th September.
Darragh Kenny was a keen young sportsman who died through cardiac arrest at the age of 28 in 2013.
Raising funds
His sister, Sarah, has with the assistance of Lions Club Ireland, sought assistance in raising money from the Malin to Mizen Cycle, and funds from this year's event will go towards a new wheelchair boat on the Shannon and CROI Heart and Stroke Foundation.
Ten members of the Lecarrow Lazer's Cycling Club have committed to raising money for the Darragh Kenny Memorial Fund, Croí Heart and Stroke Charity and the Lough Ree Access Boat.
Trip on new boat
And, one euro in every two raised in each town on the route will go towards sending a local wheelchair user on a trip in the new boat.
The funds raised for the boat initiative will specifically go towards hiring a transport provider to take local wheelchair users to Lanesboro for the trip on the Shannon. Each €1,000 collected in Charleville will facilitate a local wheelchair user in taking the boat trip. The new boat, which has been manufactured with a special collapsing access bow, is the first licenced vessel of its kind in Britain or Ireland.
Lions Club support
The Malin to Mizen Cycle, passing through Freemount, will stop off at the Charleville Park Hotel on Wednesday next, 16th September between 6pm and 6.15pm, approxi-mately, and local Lions Club members have been asked to come out in Covid 19 compliant numbers to greet the cyclists and help raise €1,000 or more.
Over €90,000 has been raised by the group since 2013. A donation line to the fund is open to all contributors at www.idonate.ie/Darragh KennyMemorialFund