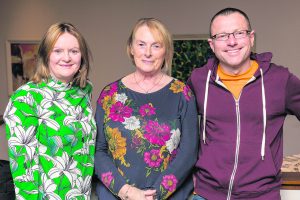 Newtownshandrum Camogie Club held a medal presentation on Thursday evening 8th November for the U11 and U13 teams who were victorious in their respective Avondhu Finals this year. Players from U8 upwards along with their parents gathered at the Charleville Park Hotel to celebrate the girls' achievements over the year. It was noted that the U15s are yet to play their final. The Ballyagran/New-townshandrum U16 League win and the recent Minor Championship win were also applauded.
Milford and Cork camogie star Ashling Thompson was the star guest and presented the girls with their medals. The look of pride on the young faces of our underage players as they were presented with their medals from such a key camogie player, was wonderful to witness. Ashling then spoke to the girls about the importance of camogie in her life. The young aspiring players looked up to Ashling in awe. You could almost hear a pin drop as she spoke. Ashling gave an insight into her full career, along with her goals and targets for the year ahead. She gave the girls great advice; to practise on both sides so as not to have a bad side when they reach adult camogie like her. Ashling also advised the girls to practise hitting on the run, and to learn a few sneaky tricks to fool the opposition! Ashling told her captive audience "You'll get out of it what you put in". She said to always attend training sessions and that encouraging teammates is a very important aspect of camogie. When you're feeling down and going through a rough patch, it is your club players who are always there to pick you up! She stressed that the bonds that she and her teammates created were the key to Milford's success.
The point that struck me the most was Ashling's comment on enjoyment. She advised enjoyment was key. "If you don't enjoy it, whether you're winning or losing won't matter". Ashling always encouraged the girls to enjoy playing together and to create those bonds as "the girls sitting beside you today are more than likely going to be the same girls with you all the way up". "Never give up on the thing you love the most" was Ashling's final piece of advice for the girls.
As a token of appreciation for passing on her wealth of experience to our underage players, Ashling was presented with a wonderful canvas print of herself wearing her Cork kit. This was painted by our very talented local artist Rachel Burke.
Ashling's sheer passion for camogie was evident in the way she spoke to the girls. It was clear that everything she said came straight from the heart and was totally genuine. This was wonderful to witness from a local player, who has achieved so much in her career to date. Thank you so very much Ashling for spending the evening with the club and for inspiring so many young players.
At the end of the night, players and parents enjoyed the refreshments laid on and everyone sat around and chatted about what a remarkable year of camogie it was for Newtown-shandrum's underage teams.
Finally, a big thank you to all the trainers, mentors, club officers and committee members of the club. We don't say it often enough, but the players are very grateful for all you do for them. Here's hoping that the camogie season of 2019 is even more successful for Newtownshandrum Camogie Club.