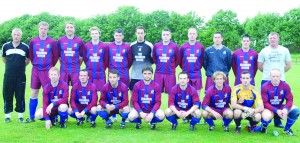 Shannonside FC (1) ……………………….………………………..1
(E. O'Connor 29)
Broadford United ………………………..………………………….0
A thing of beauty is a joy forever, wrote English poet John Keats in 1818. Few would argue with that sentiment and so Eoin O'Connor's goal that secured a 1-0 victory for Shannonside FC against Broadford United in the Weekly Observer Desmond Cup Final replay in Clounreask on Friday night will forever hold a cherished place among those who saw it, especially supporters from Foynes and Shanagolden.
It was in the 29th minute that Shannonside were awarded a free-kick 27 yards out from goal and about three yards to the left of centre. In splendid isolation, O'Connor stood over the ball. Free-kicks from such a position are commonplace: most of them are off-target, some of them are saved and a small few result in a goal. However, it is rare indeed that any of them find the net in the manner that O'Connor did.
Putting a spin on the ball that would have done justice to Roberto Carlos or David Beckham, O'Connor curled his effort into the top right-hand corner. Inches to the right and it would have drifted wide, inches higher and it would have gone over. Goalkeeper Gearóid Greaney wasn't able to get near it and getting near it was the best he could have hoped for as nothing was going to stop O'Connor's delivery from finding its intended target.
After the ball hit the net, there was a momentary pause, just as there had been at the conclusion of the first performance of Riverdance during the interval of the 1994 Eurovision in Dublin. Then, realising that they had indeed just seen a goal of real beauty in Clounreask, the Shannonside supporters erupted.
The goal was against the run of play and Broadford also dominated the rest of the match as they sought an equaliser, which suggests that Shannonside performed well defensively on the night. That is indeed the case and so it is fitting that it is one of their defenders, centre-half Kieran Trinder, who won the Man of the Match trophy. His numerous tackles, interceptions and blocks meant that he shaded the award from such as central defensive partner, Anthony O'Donnell, and strikers Daniel Power and Mike Behan, both of whom made very good use of limited possession.
The game started at a brisk pace and that was maintained for all of the first half. Both sides brought their pressing game with them and it is testimony to the high calibre of the players on the pitch that, in spite of being afforded little time on the ball, that there was still a lot of quality football in evidence.
The performance of centre-forward Mike Behan was going to be crucial for Shannonside and it was obvious from an early stage that he wasn't going to allow himself to be subdued by his marker, Joe McAuliffe, as he had been in the drawn game. While not reaching the heights of his display in the League Cup Final, Behan won a lot of the ball played in his direction and shaded his battle with McAuliffe.
Scoring early was key in Shannonside's 4-0 victory in the League Cup Final and they twice came close to an opener in the first two minutes, Kevin Doody firing straight at Greaney from 20 yards and Power whizzing an angled drive over the bar.
Doody started brightly on the left side of midfield and that must have been encouraging to managers Paul Slater and Eddie Brouder after their decision to give him a place in the starting eleven, with striker Kieran Kavanagh making way. Doody's inclusion resulted in some positional switches: Power was moved from midfield to partner Behan, Anthony Mulvihill switched from outside right to the centre of the park and O'Connor swapped the left flank for the right.
Broadford player-manager Ray Lynch and his assistants, Christy Purcell, Darren Reidy and Jim Neenan, kept faith with the same eleven that started the drawn game and the only positional switch involved Michéal Brosnan and Barry Lynch exchanging flanks and that too reverted to the status quo around the half-hour mark.
The decision to keep Lynch and Liam O'Shaughnessy up front together looked a wise one from early on. Their pace encouraged quick balls over the top, with many of the deliveries coming from midfielder Gary Egan. Their skill meant that passes to feet were brought under control quickly and Lynch's excellent aerial ablility meant that he won more than his fair share of headers.
With Egan and company supplying the passes and Lynch, O'Shaughnessy and Brosnan offering great penetration, Broadford began to dominate proceedings from about the 15th minute onwards. They threatened to open the scoring twice in the 18th minute, both involving O'Shaughnessy. He fired wide of the right-hand post after Lynch had headed on Greaney's kick-out and spectacularly thundered a 20-yard shot against the bar from a pass by Egan. O'Shaughnessy came close again three minutes later, his header from Marty Foley's corner held at the second attempt by Darren Kavanagh.
With the quality of their strikeforce, Shannonside were always going to be dangerous on the counter-attack, further evidence of which came in the 23rd minute when Behan swivelled and passed to Power who drew an acro-batic save from Greaney.
Nevertheless, it was Broadford who looked more likely to score and so, at 7.59 pm, it was against the run of play when O'Connor scored his wonder goal. Like the crowd, O'Connor hesitated momentarily before celebrating. Players dream of scoring such goals and, as we all know only too well, dreams rarely come true.
This was now a real test of Broadford's character. They had sailed majestically to the League title, winning by twelve points pulling up, they had dominated the opening exchanges of the game but now found themselves a goal behind against a team that they had failed to beat since Shannonside were promoted to the Premier Division three seasons ago.
They responded in the correct manner, by continuing to play in the style that had taken them to the league title. They created three openings before half-time: from passes by Michéal Reidy and McAuliffe, respectively, Lynch ran at the defence before firing straight at Kavanagh from 22 yards and drilled wide across the far post, while Barry Lynch arrowed a 23-yard effort over the angle of bar and post.
Unlike the first-half, the players didn't immediately get into full flight in the second-half, the first ten minutes of which were broken, the highlight being an off-target shot by McAuliffe after being set up by Ray Lynch.
For the next eight minutes, there was no play at all as the paramedics dealt onfield with an injury to Broadford centre-half, Mike Clancy, who was later diagnosed with torn knee ligaments. Clancy was replaced by Seanie Herlihy, who slotted in at left-back, with Hannigan moving over to right-back and Reidy dropping into the centre of the defence.
The disruption wasn't off- putting for Broadford, who resumed their search for an equaliser. Chances came at regular intervals. In the 70th minute, O'Shaughnessy almost scored a goal that would have rivalled O'Connor's, taking a pass from Egan and waltzing past a succession of defenders before being denied at the near post.
From the 77th minute onwards, Broadford exerted really serious pressure, mixing a measured build-up with pin-point long passes from the likes of Reidy. Their best chance came in the 85th minute when Herlihy crossed to McAul-iffe, whose downward header was saved on the line by Kavanagh.
The clock ticked towards ninety minutes but there was no cause for panic as referee Paudie Manning, who handled the game very well in his fifth final, instructed that there would be ten minutes of stoppage-time. Broadford created three chances during the added time: Lynch, with a salmon leap, headed wide from a cross by Herlihy, substitute Johnny Shanahan headed over from a free-kick on the right by Reidy and Lynch fired over from 30 yards from a short free-kick by John Paul King.
It is significant that only one of those final three chances came from open play, testimony to the excellence of Shannonside's defending. There always seemed to be someone on hand to make the crucial intervention, be it a block, tackle, header, interception or clearance. Trinder led the way in this regard but O'Donnell, magnificent yet again in the air, was not far behind, with full-backs Lee O'Donnell and Davy Dillane also performing admirably for the cause. Slater and Brouder helped to bolster the defensive performance by bringing on Damien Fitzgibbon as a holding midfielder midway through the half.
Relief was provided for the hard-pressed defenders when they managed to get the ball forward to Behan and Power, who were tireless in making themselves available for the ball, a role that Power supplemented with numerous tackles. The deadly duo almost conjured up an insurance goal midway through the stoppage time, Behan heading onto Power, who drilled wide of the left-hand post.
That near-miss kept the result in doubt right until the end, which meant that there was a dam burst of emotion released by the Shannonside players, management and supporters when Manning blew the final whistle.
Understandably, Shannon-side celebrated on the pitch for a few minutes before making their way to the presentation area. The ceremony was conducted by Mike Hanley and it was fitting for this proud Foynes man that his last Desmond Cup presentation after a term as chairman that spanned five decades was to a team that was formed as an amalgamation of Foynes and Shanagolden four years ago.
The decision to amalgamate has certainly proven to be hugely successful. Shannon-side won the Division One title in their first season, beat Broadford in the Premier Division League Cup Final the following season, finished runners-up to Abbeyfeale United in the Premier Division last season and won the League Cup and the Desmond Cup and League Cup double this season. Aodhagan Behan did a lot of great work as manager for the first three seasons, while Slater and Brouder progressed the side further, thus fulfilling the potential that they had shown as youths managers for their native Newcastle West and the Limerick Desmond League.
While it is Shannonside who finished the season on a high, it shouldn't be forgotten how much Broadford contributed to the season. They were rampant in annexing the league title, winning by twelve points and averaging over three goals per game, while they also reached the quarter-finals of the Munster Junior Cup and the 7th round of the FAI Junior Cup.
With such achievements to their credit, Broadford were considered by many to be unbeatable before the League Cup and Desmond Cup Finals. Shannonside didn't think so and they were right. They kept Broadford scoreless in all three games, the only three matches this season in which the League champions have failed to score.
Shannonside FC: Darren Kavanagh, Lee O'Donnell, Davy Dillane, Kieran Trinder, Anthony O'Donnell, Eoin O'Connor, Anthony Mulvihill, Alan Moroney, Kevin Doody, Daniel Power, Mike Behan. Subs: Damien Fitzgibbon for Doody (67 mins), Mark Behan for O'Connor (77mins), Kieran Kavanagh for Mulvihill, inj. (88 mins), Declan Lane, Brendan Lewis, Mike Sillery.
Broadford United: Gearóid Greaney, Micheal Reidy, Brian Hannigan, Mike Clancy, Joe McAuliffe, Micheal Brosnan, Gary Egan, Marty Foley, Barry Lynch, Liam O'Shaughnessy, Ray Lynch. Subs: John Paul King for B. Lynch (h-t), Seanie Herlihy for Clancy, inj. (64 mins), Johnny Shanahan for Foley (82 mins), Alan Fitzpatrick, Denis Daly, John O'Kelly, Seamus Brosnan.
Man of the Match: Kieran Trinder (Shannonside).
Referee: Paudie Manning.
Assistant Referees: Donie O'Gorman and Ger O'Connor.
Fourth Official: Paul O'Brien.