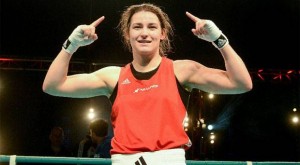 Mallow G.A.A. Complex has had the pleasure of some top class sports people visiting their facility in Carrigoon in the past, but never had an Olympic Champion and five times world title holder!
In association with Kanturk Boxing Club's annual boxing tournament, Ireland's Olympic champion and five times World title-holder, Katie Taylor, makes a welcome return to the ring in Carrigoon tomorrow, Friday 19th February. The main event of the night sees the World Champion take on Sweden's Jelena Relic who has previously represented her native Serbia at World and European level in recent years, at 57kg, 60kg and 64kg level.
Katie Taylor is the reigning Irish, European, World and Olympic boxing champion at 60 kilograms and generally recognised as, pound for pound, the best female boxer in the world.


 Trained by her dad Pete and representing Bray Boxing Club, Katie is credited with being one of the key factors behind the inclusion of women's boxing in the 2012 Olympics.
Her gold medal win at the London 2012 Olympics capped an unprecedented level of success in her sport, which has continued unabated since. Her current medal haul at major championships stands at 17 Golds, made up of 5 consecutive World Championship Golds, 6 consecutive European Championship Golds and 5 European Union Golds, making her the most decorated woman boxer in the history of the sport
There are also many more top class bouts on the night. It is an occasion not to be missed, and tickets can be purchased from Mallow G.A.A. Club.