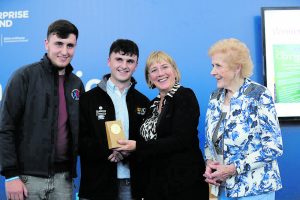 Now in its 6th year, Enterprise Ireland's Innovation Arena at the National Ploughing Championships showcased 50 of the most ground-breaking agri-innovations on offer nationwide, followed by the presentation of special recognition awards at the Innovation Arena 2019. The Cotter brothers, Jack (21) and Nick Jr. (18) from Abbeyfeale were recipients of the Best Agri-Engineering Start-Up and the Alfred Cox Founder's Perpetual Trophy for the overall winner of the Best Start-Up Innovation which includes a €5,000 cash prize along with mentoring support worth a further €5,000.
Jack Cotter described the crate: "we have designed a lamb handling crate that facilitates the quick, safe, easy and accurate administration of vaccines, doses and drenches to lambs from three weeks of age all the way up until they are easier to dose in a race or crush. The innovation lies in how the lambs are safely and comfortably restrained in the crate. The lamb is held under its own weight so there is never too much or too little pressure. The lamb is calm and comfortable, allowing the farmer administer multiple treatments quickly and accurately".
Jack continued, "The crate was initially developed for our own use when we converted to organic farming in 2014. Every year around 300 lambs are born on the farm and that's a lot of lambs to dose and vaccinate, especially when they are small; it's really difficult. In 2015 when we were giving 2nd vaccination to the lambs Nick got pucked in the head by a Ram Lamb and ended up with a black eye and stitches – we said there had to be a better way so we began coming up with the idea of a crate to make the job safer and easier. Over the following years we continued to refine the crate and make it better. In May of this year, Paddy Halton, the man who invented the Grasshopper Plate Meter was on our farm and saw the crate in action. Paddy suggested we apply for the Enterprise Ireland Innovation Arena as he thought it was a brilliant piece of equipment; we applied, and it has worked out great".
Nick Jr. went on to say, "with this invention a farmer can treat 400 lambs an hour with a single dose, and as many as 200 lambs per hour with 4 treatments. The crate cuts labour in half and costs in half. Farmers are able to dose, vaccinate, click and mark their sheep at one time. It reduces the number of times a farmer has to handle their sheep and the cost of the crate is repaid in as little as 2 years due to lower lamb losses, lower vet bills and higher animal performance. This crate is an investment that pays itself off in a very short space of time; it's a very cost effective and relatively inexpensive product for sheep farmers. We want it to be used by all sheep farmer whether they have 50 lambs or 500 lambs. It's for every sheep farmer and it solves the difficult problem of 'how do you dose and vaccinate young lambs?".
Announcing the Cotter Brothers as winners of the award at the Innovation Arena, Minister for Business, Enterprise and Innovation, Heather Humphreys TD said: "These two young entrepreneurs have proven that they have the attributes required to build successful businesses and, without question, we will see them continuing to expand their enterprises and grow globally."
The Cotter brothers have been young entrepreneurs for many years, starting their first business – Cotter Bros Firewood aged just 11 (Nick Jr.) and 13 (Jack). That business has won numerous awards including most recently, the Wood Fuel Quality Assurance Award for 2019 for the quality of their firewood at the National Ploughing Championships 2019. Nick also received recognition for their efforts, being awarded a Quercus Innovation/Entrepre-neurship Scholarship by UCC in 2019. They have also turned their hand to diversifying their farm at home, starting Cotter Organic Lamb in the summer of 2019. The Cotter Brothers now sell their own organic, 100% grass-fed lamb directly to the customer. It's exciting times for the Cotters in 2019 and we have no doubt there will be no end to their success in 2020 and beyond.
National Ploughing Association Managing Director, Anna May McHugh said: "My congratulations to all of the Innovation Arena Award winners and particularly to The Cotter Brothers as the overall winner of the Best Start-up Innovation. This is quite an achievement given the high quality and standard of all the exciting entries being showcased here at Europe's largest outdoor event. Over the years, we have seen the Innovation Arena at the National Ploughing Championships grow as it offers a significant platform for global business opportunities for budding entrepreneurs and innovators in the Agri-tech and Agri-engineering space."
The Cotter Brothers are currently in final prototype phase, aiming to begin production in early 2020. The crate is to be launched onto the market later next year. You can see videos of the crate in action and find more information on their website – www.cottercrate.com and be sure to check them out on Facebook, Instagram and Twitter.