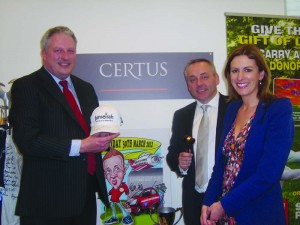 This week the Brian Hunt Memorial unveiled the array of signed memorabilia that has been donated for auction in aid of the Irish Kidney Association on Friday 30th March. Brian suffered from kidney disease and died unexpectedly last year at 26 years of age.
JC Gubbins, Director of O'Connor Murphy Gubbins Commercial will direct the auction on the night. "There is an impressive range of lots up for grabs," he told us. "One item in particular which will attract a lot of interest is the Jumeirah cap signed by golfer Rory McIlroy who recently achieved world number one status.
Other exciting lots include a pair of boxing gloves signed by Henry Cooper, jodhpurs signed by Ireland's top jockeys, a signed picture a armband by Darren Clarke and rugby and soccer shirts. The auction will form part of the Prize Giving Party for the golf competition which takes place 10am-4pm on Friday 30th at Rathbane. Hosted by Laura Ryan in Patrick Punch's Hotel, all are welcome at the celebrations which kick off at 8pm. If you cannot make it on the night, bids by email will be accepted (bhmemorial@gmail.com) or by proxy.