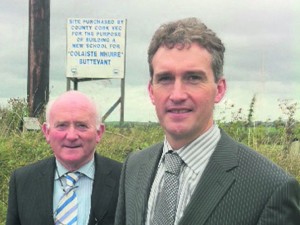 The twelve year campaign for a new secondary school in Buttevant took a major step forward this week following confirmation from the Department of Education that they are to sign contracts with the Cork County VEC to progress the development.
The Mercy Order withdrew from secondary education in the town in 1996 and the running of the school was taken over by Cork County VEC in 1997 on a trial basis, and was subsequently made permanent in 1999. That year a campaign was launched for a new school and this gathered momentum in 2006 when an eight acre site was purchased by the VEC on the edge of the town. Local Councillor Tom Sheahan, who has been involved in the project since the formation of the Buttevant Education Action Committee all those years ago, said that the con-tribution of the Mercy Order to education in Buttevant since the 1870s should be recognised. He also commended Canon Michael Harrington, who was instrumental in keeping the campaign going. "We are absolutely delighted with this news; it has been a long battle and it will probably be at least 12 months before a sod is turned, once the various stages of design and planning have gone through – but that's the necessary process and we will be delighted to let it take its course," he said this week.
Indications are that following the signing of the contracts, the design and planning stages will be undertaken, with sources believing this week that the new school on the green field site will open for a first intake of students in September 2014.
"This is a tremendous step forward for a project that has been the subject of diligent lobbying and hard work locally for 16 years. We must invest in capital projects; we must get money circulating again and we must focus on our excep-tional education system if we are to recover as an economy," was the reaction of local T.D. Tom Barry.
Minister of State at the Department of Education Seán Sherlock has welcomed the final agreement between the VEC and Department of Education on a new school. "I'm delighted to share this good news with the people of Buttevant and surrounding areas. The agreement is based on a Service Level Agreement whereby my department will provide funding to the VEC who will take ownership of the project," the Minister stated. Welcoming the news, the Chairman of the Board of Management at Colaiste Mhuire, Seán O'Sullivan, said: "The recent announce-ment by the Cork County VEC that they have got approval from the Depart-ment to proceed with the development of our new secondary school is wonderful news for our Coláiste and the wider Buttevant community. It is the culmination of a long campaign and we are very grateful to everyone who contributed to the process over the years."