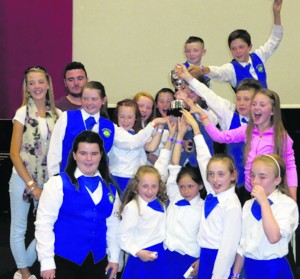 Friday the 15th of August will go down in the history books of CCÉ Cluain Chréadhail as the day more All Ireland glory visited the branch once again. Our U12 Grúpaí Ceoil delivered an inspiring performance in the majestic Knocknarea Arena and wrote for themselves their own piece of history.
With no stone left unturned by the diligent preparations of both Christine Mulcahy and Kenneth Browne the group meet up in Sligo in plenty of time to run over the set a couple of times. As the practice run was in progress one could sense that something special was on the horizon as a large crowd of onlookers gathered to listen to a flawless dry run.
All that was left then was to get dressed up in their outfits that thanks to Noreen Collins, were spotless and pressed to perfection. The Clare champions CCÉ Croisín were first to take to the stage, and as expected set a very high standard from the outset, the West Limerick youngsters were not hindered by a change to their running order due to a change requested by the Monaghan champions. And take the stage they did to a rapturous reception from their large following. After last minute adjustments and words of encouragement from Kenneth and Christine the group led off by the magnificent Chloe Farrell on the accordion went on to give the performance of their young lives. There wasn't a word from the engrossed large crowd (and clearly the judges) in the arena as they were completely taken in by the performance. They closed out their set in tremendous fashion and the roars of approval could be heard from afar.
The group consisted of Kellie Casey on fiddle, Katelyn Davis on concertina and fiddle, Sarah Dore on concertina, Holly Hennessy on concertina, Katie Burke on concertina, Katie Hartigan on concertina, Lucy Hallinan on concertina, Chloe Farrell on accordion, Aoife Casey on bodhrán and tinwhistle, Juliet Nolan on bodhrán and tin whistle, Sinéad Reidy on flute, Katie Whelan on banjo, Conor Stack on banjo and tin whistle, James Kiely on banjo and last but not least Jamie Hennessy on tin whistle.
And then it was a long waiting game as we watched a further 10 acts give it their all with Grúpaí Ceoil's from Glasgow, UK, Sligo, Wexford, USA, Mayo, Cork, Louth, Fermanagh and Galway putting in very strong performances. As the competition closed all eyes were now firmly on the judges to see if they gave a hint of giving anything away. Alas it was not to be and we all had to suffer on.
Finally the judge addressed the packed arena where space was at a premium in the 1,000 seater venue. She commented on the very high standard of music and couldn't believe that it was an U12 competition that she was after witnessing. And onto the results; in 3rd place was CCÉ Croisín, Clár and second was CCÉ Tuaisceart, Loch Gorman. And then as we waited and waited and waited the judge hadn't finished pronouncing Chréadhail when the place erupted like a volcano of epic proportion, hugs, kisses, tears, cheers, high jumps and a stampede the likes of which you wouldn't see in the bull run in Spain followed as all branch followers launched into euphoria. Eventually when things settled down and the 3rd and 2nd place presentations were completed, the Cluain Chréadhail group took to the stage to a humongous applause. Not to be outdone the outnumbered boys in the group took centre stage and Conor Stack, Jamie Hennessy and James Kiely accepted the All Ireland Cup on behalf of the group. What followed was a celebration of epic proportion and probably best left to the storytellers!
Great credit is due to two young people, Christine Mulcahy and Kenneth Browne, who taught and prepared this young group for one of the greatest days of their lives. The work they put into every aspect of this performance had the cumulative effect of bringing back home an All Ireland title. Míle buíochas.
Special thanks also to all the members, too many to mention, behind the scenes who not only this year but also past years helped to make this day possible.
Katelyn Davis delivers yet more success for CCÉ Cluain Chréadhail
As if the success of the U12 Grúpaí Ceoil wasn't enough for the branch, along comes one of our brightest young talents Katelyn Davis, who competed in the Piano faoi 12 competition. In a strong field of 12 competitors from all corners of Ireland, Scotland and USA Katelyn got the pulses racing yet again when her name was called out for second position.
Katelyn is one of the leaders of the U12 group and leads by example. Her hard work and dedication to her Comhaltas Branch is an example to all and if ever any member of our branch deserves this success it is her.
In the background on the day rooting for her were her parents Tom and Kate, family, friends and neighbours and under the guidance of her amazing and dedicated teacher Pauline Kenny, Katelyn delivered yet again an accomplished and inspiring performance.
It is with great pride Katelyn returns home to her branch with an All Ireland winner's medal for the Grúpaí Ceoil and a 2nd place All Ireland medal for her solo efforts on the piano.