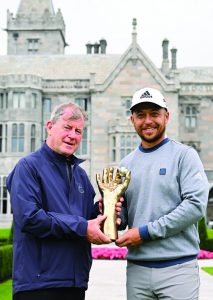 The hugely successful staging of the JP McManus Invitational Pro-Am over the opening two days of this week at Adare Manor is likely to generate a mini-mum of €50 million for local charities, which will bring its collective return since 1990 to in the region of €200 million.
Tens of thousands of spectators lined the fairways of The Course and watched the greatest golfers in the world, and celebrities, under some welcome Summer sunshine. Fresh from their win over Galway the previous day, there were plenty of Limerick hurlers present, including captain Declan Hannon, Cian Lynch, David Reidy, Kyle Hayes, Will O'Donoghue and Gearóid Hegarty, and their manager John Kiely.
On his meeting with legend Tiger Woods, Kiely quipped: "There's times we could do with him in Croke Park."
Across Ireland, and the world, this spectacular showpiece was viewed by millions courtesy of Virgin Media, Sky Sports and The Golf Channel.
"It's great to be back, this is a totally relaxed atmosphere – this is all about charity, this is about having fun and doing something for the local communities, and what JP has done over the years has been truly remarkable, and we are here to support him," said Tiger, who added that the crowds were "really crazy".
Local Tiger fanatic James "Bomba" Hogan was thrilled when Woods gave him a "thumbs-up" after the Rathkeale superfan showed him his arm emblazoned with a giant tattoo of the American golfer holding the British Open Claret Jug.
"I just love Tiger, I love the way he plays, and I have won a lot of money on him over the years, he saw the tattoo and gave me the thumbs-up, I'm hoping he'll autograph it later," he said.
Leading players such as Matt Fitzpatrick, Scottie Scheffler, Justin Thomas, Collin Morikawa, Rory McIlroy, Leona Maguire and Shane Lowry wooed the crowds, while the amateur gathering included Jamie Dornan, Niall Horan, Keith Wood, Eamon Grimes, Martin O'Neill and Bill Murray.
Fifty teams competed, including some qualifiers such as Aisling Annacotty whose side (Pat Toomey, Morgan Whelan and Ciaran Keating) were paired with Brooks Koepka on Day One. Bernard Duggan of Adare was appearing again in the Pro-Am and had the experienced Mike Hanley (Croagh) on his bag.
American Xander Schauffele set the pace in the opening round with a course record 64, eight under par.
Much of the monies raised for charitable mid-west bodies was raised through a couple of Gala Dinners, including one attended by 1,500 in a Grand Marquee in the Manor grounds on Tuesday night. Here attendees enjoyed a three-course menu commencing with a prawn cocktail starter, followed by a beef main course, and finishing with a delicious lemon parfait.
Adare Manor's regular staff of 600 (and The Course's 50) was upped considerably for the Invitational and complemented by as many as 1,000 volunteers from golf clubs across the region.
On the back of glowing reviews this week, Adare will be a comfortable venue for the 2027 Ryder Cup. Adare getting the nod to host the biennial tournament is the sporting equivalent of winning the EuroMillions and will be worth around €200 million for the local economy.
The local economy will be pretty pleased too with the windfall which befell it for two days at the start of July.
For pictures of the event see pages 50, 51 and 52.