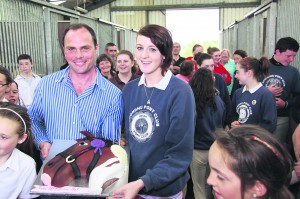 The highlight of the year for Avondhu Pony Club was the summer camp which took place from 16th to 20th July at Ballykenly Stud with the kind permission of Marie and David Corbett. The sun always shines for camp week and this year was no different for the 32 child-ren attending who all had a great experience. The children were coached by a dedicated group of instructors, Nicky Kelly, Mary Allen, Una O'Donn-ell, Susan and Kate O'Donovan; and they all had a wonderful oppor-tunity to get some intensive riding and stable manage-ment done, but most of all it was great fun and strong friendships were forged.
The camp was visited by Lisa from the ISPCA, Liam Gleeson did a talk and also a display on natural horsemanship and Sandra Spratt, veterinary surgeon spoke on what signs to watch out for if you have a sick pony; no less than four jockeys called in – Paul Townsend, Danny Mullins, Michael Butler, Paul Beecher who had a recent victory at the Hickstead Derby and Colman Sweeney brought in the Foxhunter Chase Trophy which he won in Cheltenham. The jockeys called around to all the groups and signed autographs and spoke to the children about the importance of training and the days the hard work pays off when you are victorious.
The D test took place and Shawn Howard, Isabelle Forde and Clíodhna Browne were successful. Congratulations also to Daniel Casey, James Rea, Kieran O'Sullivan, Hannah O'Flaherty, Leah Howard, Ruth O'Connor, Laura Dennehy, Kate McCarthy, Zoe Mehigan, Leah Carolan, Louise O'Connor and Eibhlís Myers who achieved the road safety test. Congratulations to Kellie Kennedy who celebrated her sixteenth birthday during the week and Paul Beecher presented her with a cake.
Friday was prizegiving day and all the members were enthusiastically plaiting and grooming from early morning and they looked a picture. Thanks to Brendan Forrest who had a very difficult job picking the best turned out from each group. Leona Kennedy, Sinead Meaney, Niamh Magner, Amy O'Sullivan and Kellie Kennedy and Amy O'Sullivan won a trophy for the overall prize.
Congratulations to Andrew Beirne who won the over 14 perpetual trophy for the combined training and Leona Kennedy who won the under 14 perpetual trophy. Laura Dennehy won the under 12 perpetual trophy for the combined training and Caoimhe Collins won the under 10 perpetual trophy.
The organisational challenge was immense. Avondhu Pony Club would like to express a special word of thanks to our sponsors for the trophies, to those who have given subscriptions and our committee members and parents who brought in all this sponsorship. Thanks also to the dedicated parents who contributed their time helping out with the supervising and catering all week, especially the night of the barbeque.
For information on joining the pony club, please contact the secretary Mary Dennehy on 086-3569896.