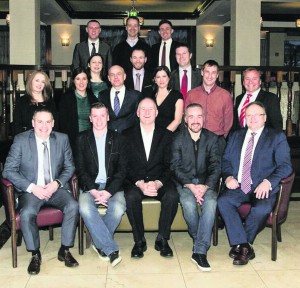 As part of Barry Groups commitment to continually develop and invest in its people, 14 Barry Group employees have just been awarded their certificate in Management & Team Development.
This initiative is being delivered on behalf of the Barry Group through a joint approach between People Dimensions International and University College Cork and covers five modules, all of which are aligned to Barry Groups internal mindset.
The five modules are covered over the 1 year course including Personal Effectiveness (Personal Leadership), Team Leadership, Customer Relationship Management, Talent Management and Strategic Management & Innovation.
As part of the development process and at different intervals during the year, internal coaching will form an integral part of the developmental process to assist with the learning journey aligned to learning journals and work based assignments. Lectures were held on site in Mallow outside normal working hours and took place once a fortnight.
The 14 Barry Group staff members who were awarded a Certificate were
Linda Sheehan, Sarah Mc Sweeney, Serena Relihan, Michelle Forde, Declan Ryan, Lynsey Murphy, Oliver Bauman, Justin Lyons, Olivia Buckley, Donal Murphy, Barry Mullane, Alan Cronin, David O Connell, Aidan O Sullivan,
Speaking at the presentation Jim Barry, Managing Director, Barry Group praised all his staff who have now completed this course, 30 in total. We believe that investing in our staff is an investment to the company, we show out loyalty and in return recieve loyalty from a hard working team. "Mr Barry said.
A multi-award-winning business, Barry Group has been named one of Ireland's 'Best Managed' companies in the Deloitte Best Managed Awards Programme to platinum standard, has achieved the Excellence through People award at platinum level in recent years, as well as securing the Great Places to Work award.
Managing Director Jim Barry has been named Irelands most trusted leader, and was also an Ernst & Young Entrepreneur of the Year finalist 2010.
More recently Barry Group has been named as a finalist and Ruband'Honneur recipient in the 2015/16 European Business Awards sponsored by RSM.
It was chosen from 678 National Champions by an esteemed panel of judges made up of European business and political leaders, academics and entrepreneurs. The company is one of 110 Ruband'Honneur recipients chosen from across Europe.