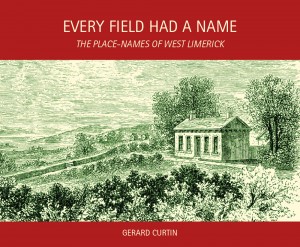 Every Field had a Name; the Place-names of West Limerick, a book that records, maps and translates the minor place-names and townlands of West Limerick is due to be launched on 27th September in Askeaton by the Minister for the Arts, Jimmy Deenihan, T.D.
The publication is a project that has taken over ten year's research undertaken by Ballyhahill native, Gerard Curtin. In the early twenty-first century the preservation of minor place-names is threatened due to the loss of local knowledge of the land-scape and the passing of community memory.
This publication records and maps over 1,300 minor place-names in West Limerick and will help preserve and deepen our understanding of the place-name heritage of the region.
The research involved work undertaken at various libraries and archives throughout the country and also interviewing over one hundred people throughout West Limerick to uncover the minor place-names known in each locality. The study is a timely and important one helping preserve a valuable part of Limerick's cultural heritage.