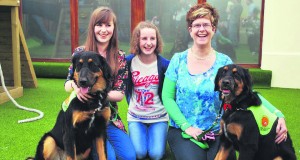 A large number of children with autism and their families from all over the country descended on Blarney Golf Resort last Thursday to celebrate the 1st birthday of Blarney charity My Canine Companion (Autism Services). A great night was had by all at the party which was organised by Joe and Audrey Rossa from Kildare.
My Canine Companion (MCC) is a registered charity established in June 2011 in Blarney, Cork providing assistance dogs to children with autism. The organisation has had a very busy first year. We have 47 dogs in our system in the 1st year in our 3 different programmes. 6 fully qualified assistance dogs have been placed with children with autism with another 3 to qualify next week. These dogs have changed the lives of the children they are partnered with and their families. The dogs provide safety independence and companionship to their children opening up a whole new world for them and their families
The organisation has established a puppy programme, the first of its kind where pups are matched and placed with children and their families when they are only 12 weeks old, they grow up with the child forming a deep bond from day 1. They are socialised by the family with the help and guidance of trainer Cliona O'Rourke. They are then brought in for their formal training at about 12 -14 months old. My canine Companion already have 20 pups in this programme including one in Shanballymore Mallow, the first of these are due in for formal training in the coming weeks while a further 12 pups of differing ages which are being raised by our puppy walkers around the country including one in Newtwopothouse, Mallow. Puppywalkers are volunteers who agree to raise the pups to adulthood where they will be taken back by MCC for their formal training as assistance dogs. They are again socialised and trained along the way by their puppywalker under the guidance of Cliona.
MCC would like to thank all our volunteers for their kind help throughout the year particularly in Mallow where we have received huge support and help from a large number of volunteers. We do not receive any government aid and rely solely on collections and charitable donations.