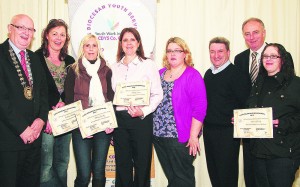 CDYS held their AGM and Volunteer Awards as part of Youth Work Ireland Week in the conference room of Mallow Youth Centre last week, with speeches from Chairman Noel O'Connor, Director Brian Williams and treasurer Sean Ryan on the performance of the organisation. Director Brian Williams said, "2011 has not gone without significant challenges, with diminishing budgets, uncertain government policy and an ever-changing situation for local youth and community services. Yet the resilience of CDYS staff and the unbelievable generosity of all our volunteers is testament to a belief, not only in the future of young people, but also in their present. Despite the constant negativity of our times, young people have articulated a spirit that is fun loving, determined and full of endless possibilities."
The AGM was followed by the CDYS Volunteer Awards. These awards are given to volunteers based on the length of service they have given to the organisation. Volunteers from all parts of Cork were on hand to pick up their awards. Congratulations and thank you to all the winners.
CDYS Music Group
wins IYMAs
Congratulations to CDYS Fermoy music group Exit Fire on winning the 2012 Irish Youth Music Awards (IYMAs) in Dublin on Saturday. The band (Jack O'Brien, James Condon, Eoin Donnellan and  Cian Donnellan) beat off stiff competition from the four corners of the country to capture the award. 
This competition is truly a team effort with the rules meaning that '22 jobs' must issued to a team of young people who support the group. The jobs include a PR promotional team, photography, social media, editors and stage managers etc. The judging panel consisted of the who's who of Irish music today with Willie Kavanagh (Managing Director of EMI Records), Jackie Hayden (Hot Press Magazine), David Wilkinson (IMRO) and Liam McCormack (RTE) taking the hot seats. The winners will now be given an opportunity to record an album with the rest of the CDYS music project. Watch this space for the launch later this year. Well done to everyone. 
National Spring Clean Day
In not-so-spring-like conditions, CDYS took part in the National Spring Clean last Monday in Mallow Youth Centre. The drizzle failed to dampen the spirits of the 30 or so young people and volunteers who turned up to help. With such a large group involved, the clean-up was done in next to no time. The area around the centre is now spotless, thanks to the hard work of the group. Well done to everyone who took part.
CDYS Bingo
The CDYS Bingo continues this Sunday night with the jackpot reaching an impressive €2,050. Doors open in Mallow Youth Centre at 7.30pm.