Business Conference, Exhibition and Networking Event
Charleville Chamb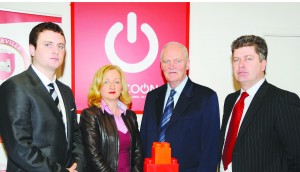 er will host a full day business conference, exhibition and networking event with the theme 'Working for a Better Future Together.' The conference will explore how to build the blocks to success for the SME community in the North Cork area on Friday 1st February at the Charleville Park Hotel.
High profile speakers such as Mr. Michael Noonan, T.D. Minister for Finance, Fergal O'Brien, Chief Economist with IBEC, Martin Riordan, County Manager, Cork County Council, Sean O'Sullivan of Dragon's Den fame and Aine Collins, T.D for Cork North West are among the key decision makers who will address the business conference on the day.
They will discuss the changes that are planned through public and private resources to nurture growth in the SME sector, encourage business development, sustainable job creation and a better future for the whole community
The event will not only be an interactive sharing of ideas but will also give participants an excellent networking opportunity over lunch to learn from others and develop business contacts. There will also be a question and answer period at the end of each session for delegates to participate and get involved.
Other speakers engaged for the event are Mark Cunningham, Head of Business Banking Bank of Ireland, Ms Yvonne Barry, Partner, Quintas Registered Auditors and non executive director of Micro Finance Ireland, Niall Donnellan, Head of Investment Services, Client Manage-ment Development, Policy and HR, Enterprise Ireland, Ray O'Connor, I.D.A., Stephen McKenzie, CEO, ICU Global, Professor Patrick Fitzpatrick, chair of Steering Group of Energy Cork, U.C.C.
The conference is aimed at entrepreneurs, start-up businesses, owners and managers of small busi-nesses, bankers, financial advisers, policy makers, export specialists, would-be exporters, investors and venture capitalists and venture capital companies and anyone starting up a small business looking for new opportunities or wishing to expand their existing business or those working in SME sector.
Commenting on the conference Mr. P. McCarthy, President of Charleville Chamber said that those starting out in business should believe in their own ability to succeed and to seek out and harness the resources available to them to attain success. He also emphasised that Charleville is an ideal centre for would-be entrepreneurs to locate their business.
To book a place at the business conference contact Donagh Stack, Charleville Chamber, E Centre, Baker's Road Charleville, 'phone 063-33133 or email donagh.stack@gmail.com