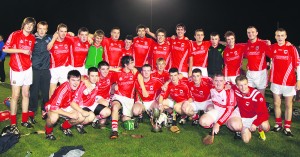 Charleville ………………………………….1-13                     Newtownshandrum .…………………..1-12
There was a very large crowd in Mourneabbey on Tuesday night to watch the first Under 21 A HC final played under lights in the Avondhu Division. It was an amazing game with the strong wind a huge factor. Newtown had the aid of the wind and rain in the first half and they were quick to get on top after the sides were level 0-2 each after 6 minutes. Newtown with points by Jamie Coughlan free and Jerry Lane moved 0-4 to 0-2 clear. Charleville had a brilliant point by James O'Brien from out on the wing but it was the defending champions who pushed on with Jamie Coughlan (free) and Jerry Lane making it 0-8 to 0-3 after 20 minutes. Newtown were well on top in the half back line and midfield sectors and they exerted a lot of pressure on the Charleville defence. Jamie Coughlan pointed another free. In one of the best moves Darren Lane sent a long ball to Jerry Lane who passed to the inrushing Kevin O'Connor who struck an excellent point 0-10 to 0-3. Billy Clifford, Mattie Ryan and Darren Lane continued to dictate matters with Eoin Doyle and Kevin O'Connor well in control at midfield. The Newtown goal came in the 27th minute when a mix up in the Charleville back line led to Laurance Clarson setting up Jonathan Lane who goaled. In injury time Jamie Coughlan with another pointed free gave his side an interval lead of 1-11 to 0- 3.
There seemed no way back for Charleville in the second half, 11 points in arrears – but the Rathluirc side grew in stature. Jake O'Sullivan and Mark Kavanagh came very much into the game at midfield while Colm Flynn, Michael O'Driscoll and the outstan-ding Andrew Cagney all featured strongly in the half back line. The Rath-luirc side held Newtown to a solitary point, a 59th minuted free. Up front the Charleville attack were in regular supply and some well taken scores saw them eat into Newtown's lead. The winners had 8 points on the trot by James O'Brien (2), James Casey, Brendan Casey, Shane Butler, Andrew Cagney, Jake O'Sullivan and Mark Kavanagh (free) to come within a goal, 1-11 to 0-11. Newtown were unlucky not to find the net when Jamie C Coughlan's shot at goal from close range struck the crossbar and was cleared to safety where it was gathered by Mark Kavanagh who was fouled. Kavanagh took the free and the well placed Brean-dan Casey netted from a goalmouth melee to force level 1-11 each after 48 minutes. The last quarter was played at a hectic place. Newtown were wide from a free. The resultant puck out by Maurice O'Brien was well caught by Barry McCarthy who cut through and placed James O'Brien for the lead point. Charleville were denied a goal soon after when James O'Brien cut in from the wing but his goal bound effort struck the upright and went out wide. Newtown's only score of the second half came from a Jamie Coughlan free with just one minute of normal time remaining. Extra time seemed likely but the Rathluirc side had a well taken point by Brendan Casey. Deep in injury time Newtown's Jamie Cough-lan cut through on a brilliant solo run but the attack was broken up. In the dying moments the winners full back line of Simon Gleeson Alan Den-nehy and Alan McCarthy excelled. They forced two late sideline cuts by Alan Dennehy and were denied a goal when Barry McCar-thy put Brendan Casey through with Newtown full back Ryan Fallon saving well. Newtown forced a long range free with the last puck of the game that dropped short. The final whistle sounded and it was Charleville who were crowned champions. After the game John O'Donnell North Cork Board Vice Chairman presented the cup to Jake O'Sullivan the winning captain in the presence of Board Chairman Christy Morris-sey and the huge Charle-ville following. They last held this title in 2001. Charleville now meet Carrigaline in the county quarter final.
Scorers for Charleville: Brendan Casey 1-2, James O'Brien 0-4, Mark Kavan-agh 0-2 (frees), Jake O'Sullivan 0-2, Andrew Cagney 0-1, Shane Butler
0-1, James Casey 0-1,
Newtownshandrum: Jamie Coughlan 0-6 (frees), Jona-than Lane 1-0, Laurence Clarson 0-2, Jerry Lane 0-2, Kevin O'Connor 0-1, Darren Lane 0-1.
Charleville: Maurice O'Brien, Simon Gleeson, Alan Dennehy, Alan McCarthy, Michael O'Driscoll, Colm O'Flynn, Andrew Cagney, Jake O'Sullivan, Mark Kavanagh, Gavin Kelleher, Barry McCarthy, James Casey, James O'Brien, Shane Butler, Brendan Casey. Sub Darren Hedderman for Alan McCarthy (inj)
Newtown: Sean Watson, Tadgh Buckley, Ryan Fallon, Stephen Young, Billy Clifford, Mattie Ryan, Darren Lane, Eoin Doyle, Kevin O'Connor, Jamie C Coughlan, Jamie Coughlan, David O'Connor, Jonathan Lane, Jerry Lane, Laurence Clarson.
Referee Dave O'Farrell (Mitchelstown)