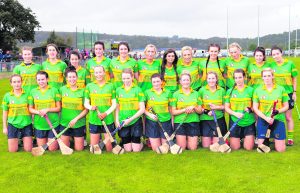 NEWTOWNSHANDRUM……………………………………………………………………….2-12
NA PIARSAIGH………………………………………………………………………………….2- 7
It took a late Newtownshandrum flurry in the last seven minutes to decide the destination of the County Junior A Championship title between Na Piarsaigh and Newtownshandrum, played out in front of a large attendance in Castle Road on Saturday afternoon.
It was Newtownshandrum who got off to a flying start when they registered three fine unanswered points from play inside the opening two minutes.  Erin Reidy split the posts, followed soon after with a well taken Cliona O'Callaghan point on the run, while Mariah Reidy shot one over from the 50 metre line.
However, Na Piarsaigh got themselves into the game on seven minutes after Leona Crowley struck a 30 metre free low towards the goal and it ended up in the back corner of the Newtown net.  Newtownshandrum responded with two points from the lively O'Callaghan, operating at left half forward and Róisín Twohill, operating in the inside line.  Crowley kept Na Piarsaigh in touch through the dead ball and when Trish Coleman found the net on the 29th minute with a looping shot, the northsiders took the lead for the first time in the game.  With three between the sides and the short whistle fast approaching, Katie Coughlan pointed a 20 metre free in added time to cut the deficit to just two at the halfway point; Na Piarsaigh 2-2, Newtownshandrum 0-6.
Inside the opening two minutes of the restart there was action at both ends as each goalmouth registered missed opportunities.  Crowley, who was proving accurate on free taking duty, missed a 45 metre free to put three between the sides. However, Allie O'Sullivan stepped up to slot over a fine point to put Na Piarsaigh three in front.  However, three unanswered points by Newtown through Mariah Reidy, and one from play and a placed ball by Katie Coughlan had the sides level for the third time in the match on the 38 minute mark.
Sarah Roche and Mariah Reidy exchanged points before three pointed frees from the accurate Crowley put Na Piarsaigh three clear on the 51st minute.  With seven minutes remaining and Na Piarsaigh ahead, Newtownshandrum had other ideas and hit a purple patch to outscore the northsiders 2-2 to nil and surge ahead.  Two well taken goals, one from full forward Rebecca Sheehy, and the second by Mariah Reidy who found the net after  being put through when a great pass from Player of the Match O'Callaghan found her unmarked in close range of goal, saw Newtownshandrum finish with a flurry to take the title back to North Cork.
Scorers: Newtownshan-drum: Mariah Reidy 1-3; Katie Coughlan 0-4, 4fs; Rebecca Sheehy 1-0; Cliona O'Callaghan 0-3, 1f; Róisín Twohill, Erin Reidy 0-1 each.
Na Piarsaigh: Leona Crowley 1-5 (1-0f, 2fs 2-45), Trish Coleman 1-0, Allie O'Sullivan, Sarah Roche 0-1 each.
Newtownshandrum: Mary Noonan; Claire Griffin, Clodagh Herlihy, Sarah Shanahan; Amy Sheehy, Gráinne Sheehy, Lorna Hooper; Fiona Twomey, Erin Reidy; Cliona O'Callaghan, Aoife Twohill, Mariah Reidy; Róisín Twohill, Rebecca Sheehy, Katie Coughlan.
Subs: Denise Cagney for F. Twomey (40), Emma Hogan for L. Hooper (41).
Na Piarsaigh: A. Lee, S. O'Donovan, L. Twohig, H. Fitton, R. Rourke, O. Bourke, L. Burns, E. Buckley, N. Kelly, S. Roche, O. Connolly, E. Sullivan, A. O'Sullivan, L. Crowley, T. Coleman.
Subs: K. O'Donovan for A. O'Sullivan, (42) S Warren for L. Burns, C. Buckley for R. Rourke (45)
Referee: Dominic
Rooney, Carrigtwohill.