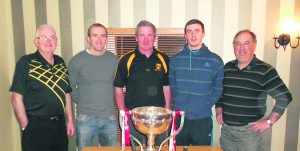 The annual Clyda Rovers GAA Golf Classic will be held at Mallow Golf Club on Thursday 31st May and Friday 1st June. This year's golf classic was launched by Cork players Paudie Kissane and Ray Carey at Murphy's Bar who are main sponsor last Saturday.
The National Football League trophy was present along with Paudie and Ray who were in the team that had helped Cork retain the National Football League trophy against Mayo.  Chairman of the golf classic committee John Roche remarked "This year sees the 16th year of the event and the support we get locally is fantastic. In difficult times the loyalty we get from people each year at our classic is just super".
Chairman of the club Jer Ronayne was also present at the launch. "The club is looking at perhaps making further improvements to our facilities in Mourneabbey Complex and some monies raised here will in part go towards that," Jeremiah said. He also said "it's a great opportunity for people to enjoy the day and it's also a great social event for those who attend". Main sponsor Derry Murphy also spoke and lent his support to the classic. "I've being involved in the classic from the very first year and I'm delighted to this year to continue the sponsorship myself and Doreen and the family have given. The classic is a major event for the club every year." He finished by remarking "we hope it will be a success again this year. A lot of money raised over the years has gone into things like the pitches and floodlights, the facilities we have at our disposal might not have been built if the classic did not take place".
The club has kept the entry fee at the 2011 rate of €150 for a team of three. Tee times and details are available from John Roche at 086 8098642. If you cannot enter a team but would like to play, contact John and he may have a few more like-minded individuals who could make up a team. Tee box advertising is also available.