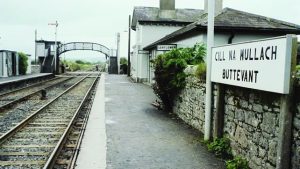 Cork County Council's calls for State funding to open railway stations in Buttevant, Mourneabbey and Rathduff received a positive response from Irish Rail after its Chief Executive Jim Meade said that the rail network would lend its support to the council's efforts to get funding for the project.
Speaking after the council meeting on Monday where the matter was discussed, Cllr. Liam Madden told the Vale/Mallow Star that the response from Irish Rail had been "positive", and added that with further stations being added along the Cork-Midleton line, he couldn't see why the same couldn't apply to the Cork-Limerick line. "If we can get the relevant bodies into a room to discuss it, we can make progress," he added, predicting that new stations in Buttevant, Mourneabbey and Rathduff would be good for Mallow and North Cork.
"Buttevant has a big hinterland, and people could use the station to access Limerick and Cork, which would take a lot of cars off the road every morning," he predicted. Buttevant Railway Station has been closed since 1980 following the rail crash which claimed 18 lives.
Following a discussion of the matter, it was agreed that the council will seek a meeting with Irish Rail, the National Transport Authority, Transport Infrastructure Ireland and communities in North Cork in an effort to progress the opening of the afore-mentioned stations.