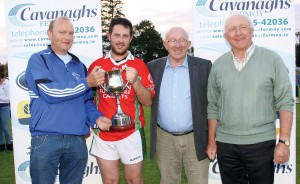 DONERAILE…………………………………………………………………………….3-19
CASTLETOWNROCHE……………………………………………………………….2- 8
Doneraile are Avondhu Division 2 Hurling League kingpins for 2013. On Friday evening in Killavullen before a very large attendance they overcame a fancied Castletownroche side by double scores. These sides had not met in a final since the 50s era. Entering this contest Castletown were awaiting Churchtown in the Premier Junior Hurling Champion-ship semi final while Doneraile are due to face Charleville in the lower grade Junior A hurling championship semi final. Castletown, firm favourites, were missing key defender Richard Relihan. However, on the evening it is unlikely to have changed the outcome as Doneraile minus Keith Sweeney were rampant once they got going. They dominated the key sectors throughout the field and took some marvellous scores. The sides were level 0-1 each after 2 minutes. Cillian Good (2) and Garry Sweeney (2) helped Doneraile lead 0-5 to 0-1 after 6 minutes. Castletown struck for the first goal when a good cross by Jonathan O'Callaghan found Mark O'Callaghan who billowed the net from close range. Gavin O'Keeffe pointed for Doneraile with Dave Relihan replying from a long range free. In the 15th minute good play by Donal Relihan led to a foul on Adrian O'Callaghan with a 21 metre free being awarded. Jonathan O'Callaghan had his powerful effort saved by Kevin Cotter but the rebound went over the line and Castletown were in front 2-2 to 0- 6. Doneraile struck a purple patch and a series of points by Cillian Good, Garry Sweeney, James O'Callaghan were followed by a Michael O'Rourke goal. Castletown had a mere two points (frees) in this period by Dave Relihan and Jonathan O'Callaghan, which left them trailing at the break 1-11 to 2- 4.
The second half was very one sided. Doneraile gained control in the half back line and midfield sectors that saw their forwards in regular supply. Ian O'Brien and Pat Enright were very impressive at midfield and Garry Sweeney and Cillian Good were in great form up front. The winners had goals in quick succession by Cillian Good and Garry Sweeney (free) which saw them open up an 11 point lead 3-15 to 2-7 entering the final quarter. Further pressure yielded points by Garry Sweeney, Patrick Enright 3-17 to 2-7 after 50 minutes. Castletown made a\ good late battle against the odds. They tried very hard for goals to get back in the hunt. They were denied by solid defending by William Cronin, David Sheedy and Ross Hunter while Kevin Cotter in goal was outstanding. Castletown had their final score a 53rd minute point by Mark O'Callaghan while Ian O'Brien with two late points completed the scoring that saw Doneraile emerge winners by double scores in the end 3-19 to 2-8.
Finbarr O'Hanlon on behalf of the sponsors presented the Lyons Cup to the winning captain Brian O'Rourke in the presence of Board Chairman John O'Donnell. Garry Sweeney was named 'man of the match'. Both of the finalists will compete in Division 1 HL for next season.
Scorers for Doneraile: Garry Sweeney 1-10 (1-8f, 0-1 65) Cillian Good 1-4, Michael O'Rourke 1-1, Ian O'Brien 0-2, Pat Enright 0-1, Gavin O'Keeffe 0-1.
Castletownroche: Jonathan O'Callaghan 1-2f, Mark O'Callaghan 1-1, David Relihan 0-3f, Donal Relihan 0-1, Muiris Browne 0-1.
Doneraile: Kevin Cotter; Padraig Brennan, William Cronin, Mark Reid; Brian O'Rourke (capt) David Sheedy, Ross Hunter; Ian O'Brien, Pat Enright; Michael O'Rourke, Garry Sweeney, James O'Callaghan; Jason O'Callaghan, Gavin O'Keeffe and Cillian Good.
Subs: Kevin Sheehan for Michael O'Rourke, Kevin Stack for James O'Callaghan, Mark O'Keeffe for Mark Reid.
Castletownroche: Dave Butler; Wesley Walsh, Johnny Batterberry, Thomas Barrett; Harry O'Farrell, Tom O'Shea, Tony Kett; Muiris Browne, David Relihan; Philip Murphy, Donal Relihan, Jonathan O'Callaghan; Mark O'Callaghan, Adrian O'Callaghan and Michael O'Farrell. Subs: Michael Browne for Thomas Barrett, Shay Mullane for Adrian O'Callaghan, Adrian Butler for Philip Murphy.
Referee: Walter Cole (Buttevant)