County Intermediate Hurling Championship Final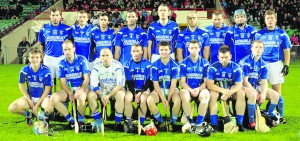 DROMIN-ATHLACCA ………………………………………….2-18
KNOCKADERRY…………………………………………………………………………………1-15
Beaten finalists in 2010 and 2012, losing semi finalist in 2011, Dromin-Athlacca finally got their hands on the Mike O'Leary Cup and the Limerick intermediate hurling championship crown following victory over final debutants Knockaderry in a memorable final at the Gaelic Grounds on Tuesday evening.
What has been a very medi-ocre year in the Limerick hurling championships following the heady heights of the summer and the heroics of the Limerick senior and minor teams was illuminated on Tuesday evening by Dromin-Athlacca and Knockaderry who served up a feast of all that is best in hurling. Played in almost ideal conditions, it was a game full of passion and intensity and embellished with some fine scores.
It was an emotionally charged evening, especially for the O'Leary brothers Gearoid and Eoin, who last week lost their mother Breda who with her family presented the Mike O'Leary Cup to Limerick County Board in 2010, to perpetuate the memory of her late husband and Dromin-Athlacca stalwart, to be awarded to the winners of the county intermediate hurling championship.
There is a blossoming love affair between Dromin-Athlacca manager Peter Finn and the intermediate hurling championship as he guided his second club in three years to success in the competition. Finn was in charge of Effin when they were crowned champions in 2011 and later that year masterminded for the club a stunning Munster inter-mediate clubs championship success. In 2010, the Bruree native had guided Effin to their first ever county junior title.
There is no doubt Knocka-derry were the dominant team in the opening half and if anything the four point cushion they enjoyed at Trevor Mann's short whistle did not fully reflect the superiority the west Limerick men enjoyed in that period. However the age old scourge of dominant teams not converting good approach play into scores was cruelly exposed as Knockaderry missed the target on no fewer than eight occasions in the first half. In that period, their hurling was crisp and purposeful, as creating twenty scoring chances in thirty minutes of hurling would suggest. After Dromin-Athlacca enjoyed slightly the better of the opening exchanges, Knockaderry's unquestion-able spirit hauled them right back into the game with Mike Downes finding the range from frees of all distances and Liam O'Sullivan, Don Hanley and David O'Callaghan, who replaced the injured Robbie Egan after just ten minutes, all appearing capable of asking the normally reliable Dromin-Athlacca defence some tough questions. At the other end Tom Condon was powerful at centre half back and his sorties out of defence caused the south Limerick men some problems.
It was an entirely different but more familiar Dromin-Athlacca side that emerged after the interval. Tiernan Ryan came on and made an immediate impact and provided a couple of points in the half. David Reidy was now operating at midfield and with his brother, team captain Michael who was inspirational in the half and contributed four delightful points from play. The brothers with Peter Ryan took a firm hand on the middle third and were awesome as Peter Finn's men incrementally clawed back the Knockaderry lead and built a match winning lead of their own. The defence that looked shaky at times in the first half was now rock solid with the Knockaderry attack making much less progress than the opening half. Panic does not feature in the Peter Finn or Dromin-Athlacca lexicons and that was borne out on Tuesday evening as they patiently worked their way back into the contest before driving on to claim the club's fourth success in the competition to go with victories in 1977, 2004 and 2007.
The game got off to a flying start with David Reidy for Dromin-Athlacca and Liam O'Sullivan for Knockaderry exchanging points inside the opening ninety seconds. Prematch favourites Dromin-Athlacca hit the front on four minutes after neat interplay between David Reidy and Oisin Liston, the former fired home the opening goal. A couple of points from frees from Mike Downes had Knockaderry back in contention before Paul Neenan slotted over to give his side a slight edge 1-2 to 0-3 at the end of the first quarter.
The scoring rate accelerated in the third quarter and after Mike Downes and Paul Neenan had traded points, Knockaderry courtesy of Donagh O'Sullivan, David O'Callaghan and Mike Downes posted three quick fire points to take the lead for the first time 0-7 to 1-3 after 22 minutes. Michael Reidy and Neenan with minors regained the lead for the south Limerick men before Knockaderry finished the half with aplomb by slotting over five unanswered points to take a four point lead in for Natal O'Grady's half time team talk, 0-12 to 1-5. David O'callaghan, Din Hanley, Liam O'Sullivan and Mike Downes (2) supplied the late quintet of white flags for Knockaderry.
Dromin-Athlacca started the second half on a high note with a goal inside a minute. James Kelleher's kicked effort was blocked by Michael O'Sullivan and fell into the path of Eoin O'Leary who clinically dispatched to the net. Inside another 60 seconds it was all square as David Reidy landed a long range free. Knockaderry were not going away as they responded with points by Mike Downes and Liam O'Sullivan before the winners hit top gear with seven unanswered points, six from play from Paul Neenan, Peter Ryan, Michael Reidy (3) and Tiernan Ryan (2) to take a firm grip on proceedings 2-13 to 0-14 with ten minutes remaining.
Mike Downes arrested the onslaught with a point on 51 minutes but it was quickly back to normal service for Dromin-Athlacca and points from Michael Reidy, Paul Neenan, Eoin O'Leary and Peter Ryan to establish an eight point cushion with two minutes remaining.
Knockaderry were briefly thrown a life line when Trevor Mann awarded a penalty on 59 minutes and up stepped Tom Condon to hammer an unstoppable shot to the net. That was as good as it got for the westerners as Paul Neenan had the last say with his sixth point of the evening.
In a moving moment at the end, Oliver Mann, Chairman of Limerick County Board presented the Mike O'Leary Cup to Dromin-Athlacca captain Michael Reidy and the O'Leary brothers Gearóid and Eoin.
Scorers: Dromin-Athlacca: Paul Neenan 0-6, 4f, Michael Reidy 0-5, David Reidy 1-2, 1f, Eoin O'Leary 1-1, Peter Ryan and Tiernan Ryan 0-2 each.
Knockaderry: Mike Downes 0-8, 6f, Tom Condon 1-0 pen, Liam O'Sullivan 0-3, David O'Callaghan 0-2, Donagh O'Sullivan and Don Hanley 0-1 each.
Dromin-Athlacca: Mark Moynihan; Donal Walsh, Brian Kelleher, Derek Kenny; Gearoid O'Leary, Eoin Benson, Tom Breen; Peter Ryan, Michael Reidy; Paul Neenan, David Reidy, James Kelleher; Oisin Liston, Eoin O'Leary, Jason Lenihan.
Subs: Tiernan Ryan for Lenihan (HT) and David Mullins for Benson (60).
Knockaderry: Michael O'Sullivan; Mark O'Callaghan, Pa Downes, Davin Meehan; Colm Moloney, Tom Condon, Donal O'Sullivan; Tommy Hannon, Diarmuid O'Sullivan; Donagh O'Sullivan, Rob Hannon, Mike Downes; Liam O'Sullivan, Don Hanley, Robbie Egan. Subs: David O'Callaghan for Egan (10) and Padraig Cahill for Moloney (54).
Referee Trevor Mann (Ballybrown).