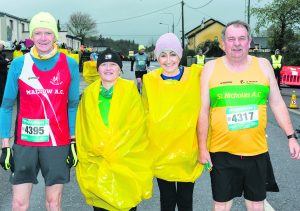 On Sunday 14th April history was made!
Although North Cork AC has a long established connection with the Dromina 10, it was the first time an athlete of theirs had won the race. Local man Rory O'Connor led the race through the village from the very start, in the company of Declan Guina, West Limerick AC, till just past the 2 mile mark. Another local man originally, Donal Giltinan now East Cork AC, was third man home. Limerick AC was represented with 4th and 5th place Paul Noonan and David Hanlon. In 6th position overall and 1st lady home was Linda Byrne, DSD; she is the partner of our winner, Rory O'Connor. 7th home was Diarmuid O'Sullivan, North CorkAC, 8th Patrick Morrissey. 9th John Meehan, North Cork AC. 10th Patrick O'Keeffe Mount Hillary AC. Narrowly missing out on the top ten was local man Kieran O'Connor, North Cork AC (father of Rory) with an amazing run and a powerful finish.
Our first ever 10k route started with a great atmosphere. The athletes counted their start down and were greatly encouraged and supported by locals.
The winner of the 10k and course setter was Mark Walsh, Leevale AC, 34.21; 2nd place Jeremiah Sheehan. 3rd place overall and first lady Niamh Moore, Leevale AC, 39.46 4th Cormac Downes, Dooneen AC, 5th Michael Murphy, Mallow AC, 6th Jerry Curtin,7th Vincent Healy, 8th our 1st Dromina man John O'Connor and 2nd Dromina man in 9th position Eamon Brennan. 20th position and 2nd lady home Annette O'Reilly Kilfinane AC. Just missing out on the top 10 was another adopted local Derek Cromwell, originally Dublin.
Both races were wonderfully supported by locals both club wise and individually. It was great to see so many club colours coming through the line. We were also delighted to have so many Athletes volunteer their experience to do pacers for the race. There were 35 different clubs represented on the day. It gives great hope for the future of this event and we really look forward to seeing them all back and bringing their friends in 2020.
The very positive feedback received from participants and spectators has to be rewarded to a very hard working committee and to our large number of volunteers from the surrounding villages.
Our stewards were out in force from early morning in less than pleasant conditions ensuring that the safety of the participants was paramount and also showing wonderful support and encouragement. Our lead and sweeper car drivers took on a very important role and again helped us ensure the final finisher is just as important to us as the first.
Our amazing catering team provided an outstanding reception and were able to do it in their stride with all the donations of home baking and food received so generously from our local communities and also with the help of all of our sponsors.
We received some amazing sponsorship and are extremely grateful to all of you. You made this event possible and it could not have been run without your generous support. We encourage everyone to please support these local businesses.
We had a lovely welcom-ing team in position to register all participants and their enthusiasm filtered through the day.
It was a great feeling to have celebrities and as we referred to them our V.I.P.s Fr. Liam Kelleher, Mr. Jimmy Barry Murphy and Mr. Jerry Kiernan share the day with us and to see their genuine delight that the Dromina 10 is back.
We hope their enthusiasm will encourage them to be part of it again next year.
The Dromina 10 committee wish to thank most sincerely, all of you who made this event possible. The help and support received over the last four months and on the day has proven to be the success of the 2019 Dromina 10.
We thank the Red Cross for their medical assis-tance, Dr. Sheena Murphy. The representatives of all local clubs, organisations, our two nurses and our physio. We thank the Cork County Council and the Gardaí for all their assistance.
To all families and supp-orters who provided entertainment and encouragement along the route, it made a difference to everyone. Hopefully the day will be warmer next year.
Thank you.