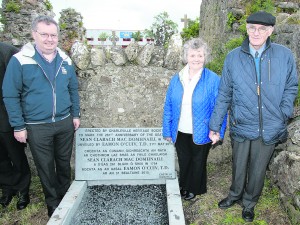 The strains of 'Mo Ghile Mear' rang through the air at Holy Cross Cemetery Charleville on last Sunday afternoon as the members of Charleville Folk Group gave an excellent rendition of the Seán Clárach Mac Domhnaill song at the graveside of the poet. Prior to that Mr. Eamon O Cuiv T.D. unveiled a plaque commemorating the 261st anniversary of the death of the poet in 1754.
The event, which took place after 12 noon Mass which was celebrated by Very Rev. Sean Canon Cotter, P.P., was the final element of the memorial weekend for Seán Clárach, which was organised by Charle-ville Heritage Society.
Mr. O Cuiv was introduced to the attendance at the event by Cllr. Ian Doyle who is chairman of Charleville Heritage Society. Mr. Doyle said Seán Clárach was revered locally, both in Churchtown and Charleville and, his name was perpetuated in the terrace of houses on the Cork Road named in his honour and the juvenile section of Charleville G.A.A. Club was also known as Seán Clárachs up to recently.
Prior to unveiling the plaque Mr. O Cuiv delivered a graveside oration in praise of Seán Clárach's contribu-tion to Irish culture. Speaking he in Irish and English, said he was delighted to be in An Rath to perform the unveiling of the plaque, particularly in view of the family connections with the town and area. He was of course referring to his late grandfather President Eamon de Valera who grew up in nearby Bruree and attended secondary school at Charleville C.B.S.
He said that Seán Clárach contributed to and preserved Irish culture in a dark time in Ireland, and was amongst the most prominent poets of his day as chief poet of Munster and a member of Filí na Máighe. He paid tribute to the members of Charleville Heritage Society for keeping his memory alive for this generation of Charleville people.
Mr. P.J. McCarthy President of Charleville Chamber, of which the Heritage Society is a sub-committee said they were delighted to be associated with honouring the poet and he congratu-lated the committee members who had organised the memorial weekend. Very Rev. Sean Cotter, P.P. blessed the proceedings at the graveside. Mr. Michael Moynihan, T.D., was also among the attendance, as was Mr. Noel Linehan and Mr. Gerry Murphy, both of Churchtown Historical Society.
The occasion was filmed for a forthcoming programme to be called 'Na Balladai' featuring Cork singer/songwriter John Spillane who visits towns associated with ballads and songs. In Charleville they were concerned with the song 'Mo Ghile Mear' which was written by Seán Clárach all those years ago but is still popular today. The film crew then moved on to film at the birthplace of the poet at Rath, Churchtown. The programme will be aired on TG4 next January.