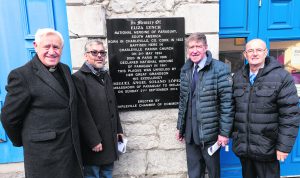 The inaugural Eliza Lynch Lecture in honour of Charleville born Eliza Lynch, the National Heroine of Paraguay was delivered by the Vice-Minister for Higher Education in Paraguay, Jose Gabriel Arce Farina and hosted by Charleville Heritage Society at the Library, Charleville on last Saturday morning.
The lecture marked the establishment of an Eliza Lynch Annual Lecture in her honour along with an Eliza Lynch Postgraduate Scholarship in Women's Studies to include the areas of women's history, writing and art. Born in Charleville in 1833 and baptised in 1834 at the local parish church, which was then in Chapel Street, Eliza Lynch left Ireland with her family when she was ten years old and went to Kent in England. She later met and became the partner of the Paraguayan Dictator Francisco Solano-López (1826-1870) and is a national heroine in Paraguay
In honour of this historic link between Cork and Paraguay, the Higher Ministry of Education, Paraguay and University College Cork have established an Annual Lecture Series along with an Eliza Lynch Postgraduate Scholarship in Women's Studies to include the areas of women's history, writing and art.
Accompanying the Paraguayan delegation to Charleville on Saturday were Professor Nuala Finnegan of the Department of Spanish, Portuegese and Latin American Studies and Director of UCC's Centre for Mexican Studies, Charleville lady, Dr. Maeve O'Riordan, Director of Women's Studies, UCC, Patrician Coughlan, Professor Emerita in English at UCC and Cliona Maher, International Office, UCC.
The UCC party was met by Cllr. Ian Doyle, chairman of Charleville Heritage Society, who welcomed them to Charleville and introduced them to the large attendance at the event. Cllr Doyle said that they were honoured to have the Paraguayan education minister and his associates in Charleville along with the UCC visitors. "We are delighted that Eliza Lynch is being honoured in this way by both countries and that you have come to share this development with the people of her native town," he said. The lecture accompanied by a film show was delivered by José Arce through an interpretor Cliona Maher, after which the party was taken on a walking tour of Charleville which included viewing the house where Eliza Lynch was born, the plaque on the wall of the Community Hall along with the interior of the building where she was baptised.
There was also a visit to the Parochial House where they viewed the entry in the baptismal records and Very Rev. Canon Dónal O'Mahony presented José Arce with a framed copy of Eliza Lynch's baptismal certificate.  They also visited the Provincial Heritage Centre of the Mercy Order where they were received by Sr. Bernadette Maria, the director of the Centre, who gave them a talk and tour of the facility.