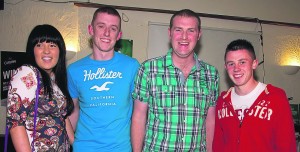 Family and friends are rallying round Alexandra Burke from Kilmallock to raise funds to help send her to the United States for vital medical treatment in the next couple of weeks.
Alexandra's aunt Carmel Burke with some friends has organised various fund raising events to help gather the much needed funds.
The first event was a 70s/80s disco last Saturday night in Scoby's Bar, Hospital. A Family Fun Day is being orga-nised for the People's Hall, Kilmallock, this coming Sunday May 27th between 2pm and 5pm. The day will include face painting, a clown, a mag-ician, balloon modelling, raffles, disco and lots, lots more. A raffle will be held on the day with great prizes to be won, including tickets to the circus. Admission is €5.00 per person.
An account has been opened at Bank of Ireland Kilmallock for anybody wishing to make dona-tions to the fundraising drive. The account number is 96313393, sort code 90-45-36. For fur-ther information contact Carmel 087-9777395 or any of the committee members: Carmel Burke, Lisa Sheehan, Lizzie Brummell and Eileen O'Driscoll.