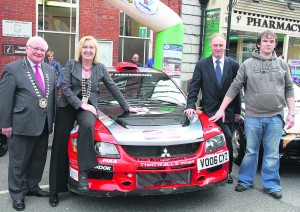 High octane action zooms into Mallow later this month with the 2nd annual running of the Jim Walsh Forestry Rally, round 4 of the Valvoline National Forest Rally Championship 2012, on Saturday May 19th next. The rally will bring a welcome tourism boost to Mallow and surrounding areas, with 65 of the top forest rally crews from Britain, Ireland and Northern Ireland staying in the locality as they tackle what are regarded as some of the finest gravel stages in the country.
Sponsored by Mallow Chamber, President Mary Kelly says, "This is the second year that Mallow Chamber has backed the rally, as a Chamber, we are constantly working to support and encourage events which increase footfall in our businesses, fill hotels and B&B's and continue to raise the profile of our town".
PRO for the Jim Walsh Forestry Rally, Ger Leahy says, "Each of the 65 crews will have up to 6 team members including the driver, navigator, mechanics and engineers all of whom should bring a welcome economic boost to the town of Mallow and locality. In fact last year there wasn't a bed to be had on the evening before the rally and that's before you factor the spectators in".
Clerk of the Course Paul Casey agrees. "The support received from Mallow Chamber as well as Mallow Town Council and Blackwater Valley Tourism, both in financial and logistic terms is invaluable; the rally would not take place without their support".
This year's event will also see images of Mallow being broadcast on TG4's Motorsport Ireland show on Wednesday, June 19th at 11pm with a repeat listing on satellite TV channel Motors TV (Sky channel 413) for millions of people worldwide to see.
Headquarters for the event will be based at the Roundabout Inn. Mechanical scrutiny and documentation will take place from 8am on Saturday, with the first car leaving at 1pm and the first car expected back at the finish ramp at 7.30pm on Saturday evening.