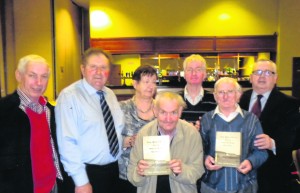 A book that goes behind the walls of Glin Industrial School was launched at the weekend. Past pupils from around the world converged on the South Court Hotel, Limerick for the launch of Tom Wall's 'The Boy from Glin Industrial School'.
The book, which extends to 300 pages and contains 67 photographs, is a truly amazing story of a three-year-old boy who was detained at Glin Industrial School and tells the story on a day-to-day basis of what it was like to be reared in an industrial school.
Glin Industrial School was in existence from 1928 to 1966, having been previously a workhouse. The book contains a detailed history of the school from its beginnings in the middle of the 19th century up until it was eventually demolished. The book reveals some of Ireland's hidden past and life in an industrial school. It charts the history of the Christian Brothers who ran the school and also contains a number of apologies which were received including one from the Vatican for the wrongs perpetrated in such institutions.
The Boy from Glin Industrial School, costing €15, is on sale in all bookshops. See photos on page 29.