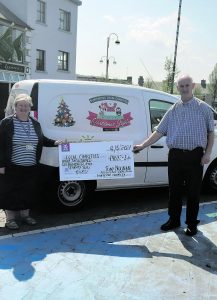 Last Christmas was the first time in many years that Noonan's Christmas Lights for charity were not on display for the enjoyment of hundreds of adults and children who supported the spectacular scene annually.
The Noonan family took the decision, in the interest of public heath and safety due to Covid 19, not to open their home to the public. But in an effort to continue to raise funds for the many charities supported by the event, they hosted an online fundraiser, which raised an incredible €9,672. The family would like to acknowledge the support it has been given in a note from Tony Noonan.
"First of all, we hope everyone is keeping safe and well in these difficult times and please God, better days lie ahead. Christmas 2020 was a different kind of year for us due to Covid 19. Because we followed government health res-trictions, we could not have our usual Christmas lights display as guidelines deemed it a health risk to our supporters and visitors. We also felt that non -adherence of guidelines would have been an insult to our frontline health workers and to all those who lost loved ones during the crisis. As we all know by now the consequences of not sticking by the rules, as the aftermath of the holiday season had a detrimental effect on lives, and we were once again in a severe lockdown, we made the right decision. But to be perfectly honest, it was a very difficult decision for us since we'd been doing this charity work for twenty years. But we set up a GOFUNDME event in an effort to support our charities, who are in difficulty due to lack of fundraising events. We would like to acknowledge and say a huge "Thank you" to all our loyal supporters and new followers for their support of the event. It is very much appreciated. With your help, we raised an amazing €9, 672 online and by personal donations made to me. Thank you all, my friends, from the bottom of my heart. It came as no surprise to our family because the generosity of people has always been amazing. The charities that benefitted were as follows;
Milford Care Centre, CRY Monegea, Brothers of Charity, Foynes and Newcastle West, Cari, Limerick, The Recovery Haven, Tralee, and the Peter McVerry trust, Limerick. Due to ongoing restrictions, we have been unable to have our usual presentation of cheques to the charities, we the cheques have been posted instead. Many thanks to Mary Liston, manager of AIB Abbeyfeale for standing for the photograph with the cheque. Many thanks as always to Pauline and all the staff at the Weekly Observer and Vale Star for excellent coverage and support. It's very much appreciated. Thanks too to our Sporting ambassadors Limerick's hurling goal- keeper Nickie Quaid, Limerick and Newcastle. West footballer Ian Corbett, and Kerry footballer David Clifford for actively supporting and promoting the fundraiser.
This year, in the absence of our usual Christmas Lights display, we decided to bring some seasonal cheer to local school children by visiting them with Santa in his sleigh. It was a wonderful experience. Thanks to all the teachers and students for the warm welcome everywhere we went. And to the main man himself, Santa, we thank you sincerely. Thanks too to Nancy Harnett for setting up the GOFUNDME page and keeping everyone updated on social media, and to Eoin Kennedy and family from AI Trailers, Croom for sponsoring Santa's sleigh, and to all the crew at Fitall and Signage, Abbeyfeale for sponsoring the signage. It has been very much appreciated. As I always say, this is not about Tony Noonan or the Noonan family, it's about all those who lend a hand, offer support, and donate each year to the charities. We thank each and every one of you.
On behalf of everyone here at Noonan's, we'd like to offer our sincere sympathies to all who have lost loved ones during the last fifteen months. And again, thanks to everyone who put their shoulders to the wheel and helped in any way during this time.
Finally, I'd like to reassure everyone that Noonan's Christmas Lights for Charity, Templeglantine, will be back doing what we do best next Christmas, God willing, bigger and brighter than ever. We will begin once more to light up the night sky in support of our charities on Friday, November 5th, 2021.
In the meantime, enjoy the summer and stay safe" Tony Noonan and Family.