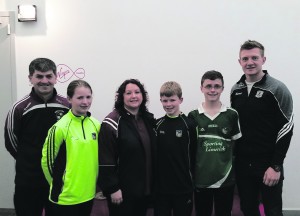 A hardworking west Limerick mum of three has scooped top prize in a national competition and it will mean a windfall for her local club.
Jacqueline O'Connor was named The Hardest Working Sports Mum in the competition run by TV3 and she will receive a top of the range Samsung Addwash washing machine while her local club Athea G.A.A. will benefit to the tune of €1,000. Jacqueline was selected from hundreds of entries nationwide and appeared live on Ireland AM on Tuesday morning where she chatted with Galway hurling star, Joe Canning.
Jacqueline combines being wife to David and mum to Jack, David and Sarah with extraordinary dedication to the G.A.A. and is currently the secretary of Athea G.A.A. and Bord na nOg clubs as well as assistant secretary of the Limerick County football Committee. That is not all as she is also the club's P.R.O. and Children's Officer.
She attends all her club's matches and all Limerick matches and the washing machine will be very useful as she washes all the club jerseys and the gear of the Limerick underage teams.
The €1,000 will be a boost to the local G.A.A. coffers as they are presently revamping their playing facilities.