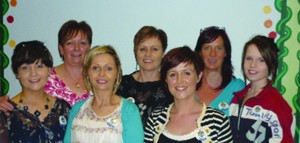 On a wintry March night in St. Ita's Hall Abbeyfeale a group of Harnetts assembled to discuss the possibility of organising a reunion of the clan. The members got to work, the momentum has been growing, now the town holds its breath for the influx of Harnetts.
This promises to be no run-of-the-mill family gathering. Thanks to an intensive facebook and media campaign Harnetts from all over Ireland, the U.K., U.S.A. and even New Zealand are converg-ing on Abbeyfeale. Amaz-ingly, many of these Harnetts have no conn-ection whatsoever with the area; but are drawn by the opportunity to meet other people who share their surname.
The programme kicks off on Friday July 20th. in the Glorach Theatre (beside the church). A literary competition on the theme of Harnett was held in the local schools and the prizes will be presented on the night with some of the prizewinners reading their winning entries. There will also be some music from the Harnett musicians and singers of Abbeyfeale, Mountcollins, Tournafulla and Newcastle West. The Harnett Reunion Comm-emorative Magazine will be launched and this magazine will be on sale at €5. The magazine features written and photographic contributions from Harn-etts at home and abroad, is a very interesting read, and I am sure it will be a collectors item in years to come. All of this will be followed by a cup of tea or coffee, accompanied by a home-baked Harnett bun or piece of tart. Everything that night will have a touch of Harnett! This is a free event and all Harnetts are welcome.
Saturday 21st, will be a busy day for the Harnetts. Between 11a.m. and 1p.m. the parish records will be available to view in the parish office on Convent Street. This will be very interesting for those who would like to trace their relations and some mem-bers of the Harnett families will be on hand to help, particularly in correlating the census on line with the parish records.
At 3p.m. members of the Harnett families will be at each of the three ceme-teries in the town. In preparation for this week-end all the names and addresses on the head-stones of the Harnetts and nee Harnetts have been recorded and we will be delighted to show people around.
Following this, at 7p.m. in The Church of the Assum-ption we will celebrate a Mass for all deceased members of the Harnett families. All of the readings, music etc. will be provided by the Harnetts.
The main highlight of the week-end, The Gathering, takes place in Fr. Casey's G.A.A. clubhouse on Saturday night at 8p.m. A delicious hot and cold buffet will be served and entertainment will be by Mike Guinane and his band. This will be a marvellous opportunity to meet, greet and mingle with all those who are travelling for the reunion. Old friendships will be renewed and many new ones will be born. The Harnett Reunion cake will be cut by the Harnett who has travelled furthest to join us. This is a ticket only event and ticket holders only will be admitted as space is limited. Tickets will not be available on the night but can be purchased in advance from James (087 2500 929).
Come to Abbeyfeale Town Park on Sunday at 2p.m. and witness history being made. This will be a world record attempt at gathering the largest number of Harnetts ever, in one place, at one time. We appeal to everybody who has an ounce of Harnett blood running in their veins to attend this event. A professional photographer will be in attendance as we hope to fill the all-weather pitch with Harnetts. Naturally, being Harnetts, there will be no crookery involved – it will all be officially recorded and above board!
To officially bring the week-end to a close, Ita Harnett O'Connor will plant an oak tree in the park to commemorate what we hope will be a wond-erful occasion.
After that, for those who wish to wind down after all the excitement, Thomas Mann of Matt McCoys Bar is providing a music session with free finger food for all Harnetts at 5p.m.
West Limerick and North Kerry is the spiritual home of the Harnett Clan. Abbeyfeale is at the centre of that area, so come along, join us and celebrate your proud name – you will be surprised at what you will discover.