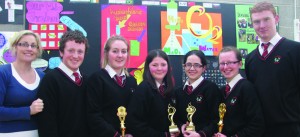 Two of Hazelwood College's talented Home Economics students, Julia O'Doherty and Laura Stack, recently confirmed that they could take the heat in the kitchen when they wowed judges with their exceptional culinary skills in the Apprentice Chef final held in the Institute of Technology, Tralee. In a hotly contested regional final both competed against six other finalists from schools across Limerick, Kerry and Cork. The students had to create a recipe for a main course using ingredients listed in the "Good Mood Food List". Marks were awarded on presentation, quality and skills demonstrated, along with a written project.
Laura Stack created a mouth watering dish which consisted of crispy chicken with spinach and tarragon stuffing served with roast vegetable filo basket and a bell pepper sauce. Julia O' Doherty impressed judges and secured victory with her sole roulade served on a bed of stir -fried vegetables, potato gratin and a prawn bisque sauce. Apprentice Chef Mentor Judge Mark Doe said "We have been blown away by the standard of not only the cooking of the students' dishes, but just as importantly the standard of projects they submitted."
Julia's exceptional win was rewarded with a very generously sponsored prize of €1,000 worth of cooking equipment for Hazelwood College by Lee Strand, a three day internship with Apprentice Chef mentor Simon Regan at the 5 Star Hotel Europe in Killarney, three cookery workshops with Apprentice Chef mentor Mark Doe at "Just Cooking" cookery school in Firies, three Innerjoy Wellbeing coaching sessions with Susan Fitzgerald, an Apprentice Chef uniform, kitchen utensils and certificate.