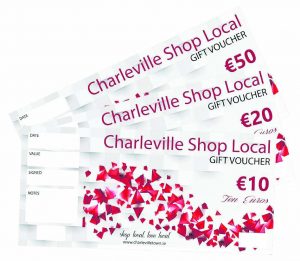 This year has been like no other, with local businesses fighting to survive, but Charleville traders are adapting to the new reality and, to encourage people to 'shop local' this Christmas, Charleville Chamber of Commerce has developed the 'Charleville Shop Local Gift Voucher'. The vouchers are available in denominations of €10, €20 and €50 and will be redeemable in over 50 businesses in and around Charleville.
How Can People Purchase the Vouchers?
The vouchers can be purchased from the Charleville Park Hotel, Kilmallock Credit Union Charleville office, Lee's Centra on Main Street, Lee's Centra Applegreen, Murray and Sons, or online through the Charleville Chamber of Commerce website; www.charlevillechamber.ie. A full list of the participating businesses and all related terms and conditions can be found on the chamber website.
How you can make a difference
Charleville Shop Local Vouchers are a great way to give a gift this Christmas to someone special, which can be used in a range of amazing shops and businesses, while ensuring that you play a very important part in keeping money in the locality and supporting the many local businesses who need your support now more than ever.