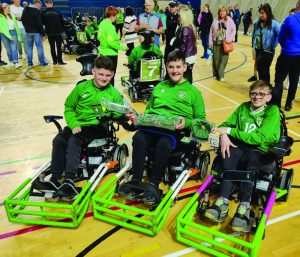 Heroes powerchair Football players Liam Lynch (19), Isaiah O'Driscoll (18) and Matt Crowley (13) were presented with Irish Caps by Stephen Kenny on 17th of September at Sports Ireland Campus Blanchestown.
The three boys play for Heroes Powerchair Football Club in Buttevant, Co Cork. The club was founded by Connor Corroon in 2015 and has gone from strength to strength in the years since. Every Saturday the boys can be found practicing in the Buttevant GAA hall. Heroes based themselves in Buttevant after the local GAA kindly offered the hall as a training ground for the team.
While the members come from all over the country to practice and play, the three local boys went a step further and were selected to the Irish development and senior teams in 2022. Liam (Twopothouse) and Matt (Liscarroll) will be heading to Sydney in 2023 to represent Ireland in the powerchair football World Cup.
Powerchair Football is a game played by a team of four using sports powerchairs fitted with guards to guide and strike the ball. It is not for the faint hearted and offers powerchair users who can't play traditional football the opportunity to enjoy sport at a competitive level.